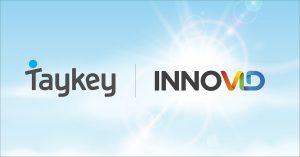 Innovid, one of the world's leading video marketing platform, announced it has agreed to acquire real-time data intelligence company Taykey to provide brands with new insights into the impact of contextual relevance on video engagement.
In a race towards addressability at the lowest cost, content and context of the ad environment have been sacrificed. Brands have been caught off guard to find that they are reaching the right people in the wrong places. While there are many ongoing initiatives to solve for ads appearing in unsafe or inappropriate places, leveraging content and sentiment to improve quality in video advertising has yet to be realised.
This acquisition combines Innvoid's video engagement and performance data from 500 billion+ video ad views with Taykey's dataset of contextual intelligence across hundreds of millions of digital activities per day. The combined technology will help brands realise the correlation between relevant content and video ad performance.
"There is massive opportunity for marketers to gain higher performance by leveraging real-time contextual intelligence for video content as a factor in how they plan, optimise and ultimately deliver video creative at scale," said Zvika Netter, CEO and co-founder of Innovid. "That's why this acquisition is so exciting for us – it enhances the breadth of insights that Innovid's media agnostic platform already delivers to brands and drives more effective video marketing, and provides an additional input for data-driven video strategies."
"Taykey's mission has been to provide companies with actionable intelligence by analyzing hundreds of millions of digital activities in real-time," said Amit Avner, CEO and founder, Taykey. "We are thrilled that this powerful dataset can now be activated across the world's largest video marketing platform, serving over one third of all video ads."
As part of the acquisition, Innovid will gain access to Taykey's technology, big data platform and 14 patents including natural language processing and AI-based machine learning, as well as key hires in New York and Israel.
The acquisition will close by the end of the month. Terms of the deal are not being disclosed.
Source: Innovid