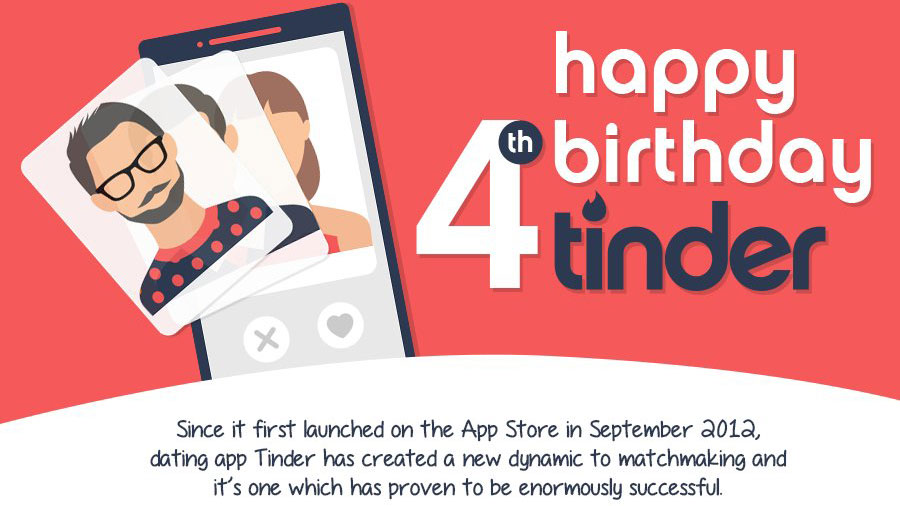 This September, dating app Tinder will celebrate its fourth anniversary. Since September 2012, more than 40 million people have downloaded the app and swiped right on potential matches, with wildly varying degrees of success. Every single day, there are 1.6 billion swipes on Tinder and 26 million new matches formed.

Having started as an experiment at a California university, Tinder is now used by people in almost 200 countries worldwide who believe that a simple swipe to the right could find a match for them.
The app has a reputation for being a hook-up service more than the first step towards finding a future life partner, but every match has its own story to tell and Tinder has been responsible for more than 1.5 million first dates.
Furthermore, over half of these have led to at least a second date, so the potential for something long-term definitely exists.
While the majority of Tinder's user base falls between the ages of 18 and 35, it can also appeal to people in middle age and older who may still be searching for 'the one' or who might be looking to get back on the horse after the termination of a previous relationship.
For all the criticism over its supposedly sleazy nature, the success of Tinder has been undeniable.
The simple truth is that smartphones are becoming increasingly central to our lives and Tinder has seized upon that trend. Also, there are multiple tales of how people who met after matching on the app progress to being a married couple.
To mark Tinder's fourth anniversary, the people at Carvaka created the infographic to chart its rapidly evolving history and lay bare the scale of its popularity with a collection of interesting statistics. Let's just say we swiped right on this fabulous infographic.
Source: Carvaka