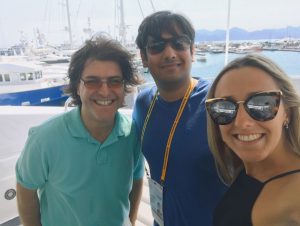 Programmatic marketing solutions provider, DataXu, was recently named a leader, including the highest score possible in the product strategy criteria in The Forrester Wave: Omnichannel Demand-Side Platforms, Q2 2017 from Forrester Research. Quite an achievement for a company, which started its operations by providing data analysis to NASA, trying to figure out a way to send a human to mars and back.
"So this was a very big project, we thought how can we take a decision both efficiently and yet in a comprehensive way, and make sure that we are evaluating all the possible ways that this could happen. The NASA project was very successful and we found ourselves with something very powerful, but with an application only for a state owned, or government entity," revealed Sandro Catanzaro, DataXu's Co-Founder and Chief Innovation Officer, when he caught up with us during the Cannes Lions Festival in France.
"We decided to find a commercial application for it and we took it to many markets. We found that one area where many decisions are necessary, yet there wasn't really a good support in terms of data analytics, was marketing. Back in the day, buyers of media were not really equipped to take rational decisions and they were running things based on best practices and experiences. This was very complicated given that best practices are born out of past experiences and through extensive learning, and in a market that is changing fast, this can be challenging."
The company's mission is to make marketing better using data science. Some of the world's top brands and agencies use DataXu to better understand and engage customers across all devices and media formats. Its solution provides marketers with Media Activation, Marketing Analytics and Data Management capabilities.
With fourteen offices in nine countries, DataXu's full-stack solution is powering the marketing transformation of the world's most valuable brands.

"We see the technology world becoming simpler. Our campaigns are based in an omnichannel idea, where you don't have to set up separate mobile, online or TV campaigns. Just have one simple idea across all channels," said Sandro.
But despite the positive outlook, recent studies like the one by WARC and the Mobile Marketing Association (MMA), show that major markets (such as the EMEA) are budgeting for mobile, but strategy and measurement are still lacking.
"I think that with new technology a strategy that was useful for marketers in the 60s, is a strategy that is useful today. So in that sense we are kinda going back to future. Good marketing is reaching the right consumers with the right message and the right time. I think that hasn't changed, perhaps what has changed is the ability to do it with progress," said Sandro.
It is no mystery that the influence of technology has helped digital marketing grow at a rapid pace.
"The industry is going towards simplification, and I think that is a very good direction. Something thing I would change though is the practise of creating fear and concern about what the industry does, and the methods of the industry. I think what we need to do is create education that is transparent and aligned with trying to do the right things with our clients, " added Sandro.