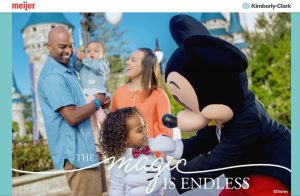 Kimberly-Clark, the company behind Kleenex tissues and GoodNites disposable underwear, has launched a text-based mobile campaign to promote its Huggies nappy/diaper brand in Meijer stores.
The campaign, powered by digital marketing solutions provider HelloWorld, offers consumers a chance to win instant prizes – which includes a trip to Orlando, Florida – through the 'Magical Vacation Sweepstakes'.
Shoppers enter by texting the word 'Meijer' to a shortcode that sends back a link to the campaign site. Here, customers register with their email address and play a memory match game featuring Huggies products for a chance to win the trip to Orlando. Shoppers are encouraged to return daily for chances to win other prizes including movie passes, discount codes and Meijer gift cards.
"We are excited to reward Meijer customers for shopping Huggies products, while adding value and excitement to the experience," said Cheryl Petrie, divisional merchandise manager for kids and baby centre from Meijer. "We knew we wanted to create a cohesive and immersive campaign that gives our customers the chance to win a once-in-a-lifetime experience, as well as daily prizes to keep them engaged. HelloWorld is empowering us with the technology to deliver exciting experiences for our customers, while helping us reach our business goals."
Kimberley-Clark hopes that consumers share their excitement of winning across social media to help boost awareness of the Huggies brand and further engagement in the campaign.
Source: Mobile Marketing Magazine