In an out-of-home activation for its Mate 10 smartphone, Huawei installed a portable battery charging station at Bondi beach in Sydney, Australia.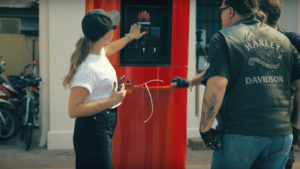 The Chinese smartphone maker wanted to play on Australians' love for the outdoors just as much as their smartphones. That is until their phone runs out of battery, cutting their day at the beach short.
With its increased battery life, Huawei wanted to show that Mate 10 has phone users' backs all the time.
Surprised Bondi beach goers, who charged their smartphones, found that it had not been charging via a power source, but had in fact been charging with a Huawei Mate 10 smartphone.
Source: The Drum