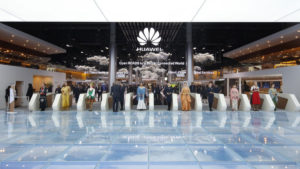 China's Huawei raised its forecast for full-year smartphone shipments to more than 200 million and said it could become the world's top vendor of the devices in the final quarter of next year. Huawei, which recently displaced Apple as the No. 2 smartphone vendor in the June quarter, expects full-year shipments to beat an initial target of 180 million after it shipped more than 95 million smartphones in the first half, consumer business group CEO Richard Yu said on August 3.
"I think it's no problem that we become the global No.2 next year; in Q4 next year, it's possible we become No.1," Yu told a Huawei media briefing at its headquarters in Shenzhen. He attributed the growth to strong sales in Europe and China, bolstered by premium products such as the p20 series, of which it has sold more than 9 million units since its launch four months ago.
The Chinese market is key for Huawei as it has come under fire in the United States, Australia and other nations over concerns it could facilitate Chinese government spying, which it has repeatedly denied. Yu said there was nothing the company could do about being virtually shut out of the United States market with no major carriers there selling its smartphones.
But strong growth in some other markets has offset that. Huawei's consumer business group, which includes the smartphones operations, saw 73 percent revenue growth in the Europe, Middle East and Africa (EMEA) region in the first half. Revenue from China grew 37 percent.
Yu declined to provide half-year revenue figures for Huawei's consumer business group, but said it made a higher revenue contribution, a trend that could continue. The unit accounted for 39.3 percent of Huawei's total revenue in 2017.
Huawei overtook Apple to become the world's second-biggest smartphone seller in the June quarter, data from market research firms showed. The company's full-year forecast for smartphone shipments would represent a 31 percent rise for 2018, a strong recovery after a sharp slowdown a year ago. Huawei's recovery comes as the Chinese smartphone market, the world's largest, shows signs of further consolidation towards the largest vendors.
Yu said Huawei managed to increase its global share in the premium market of above $500 smartphones in the first half to 16.4 percent from 12.8 percent a year ago. Sales of its P and mate series of premium phones grew 45 percent from a year ago.
Huawei plans to add 10,000 retail stores around the world before the end of this year. It also plans to do internal testing of 5G phones in the fourth quarter of this year for a launch some time next year, Yu said.
Source: Reuters