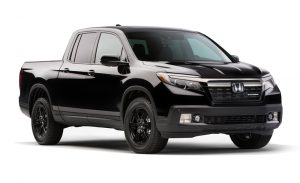 Honda is promoting its revamped 2017 Ridgeline vehicle with a social media campaign that includes four stop-motion videos showing off its features alongside another series with a woodworking expert detailing various pieces that can fit into the vehicle's back.
The car manufacturer joined forces with Oscar-nominated stop-motion artist PES for the new integrated marketing campaign, which seeks to bring the Ridgeline to life on consumers' television sets, mobile devices and favorite online destinations. Honda is attempting to differentiate its content from the influx of mobile video on social media by filming each clip in stop-motion.
"Given the production team and large dollars behind it, there's little doubt that these videos will be stunning," said Jeff Hasen, founder of Gotta Mobilize and author of The Art of Mobile Persuasion. "What's seemingly missing is what has become commonplace in efforts to market automobiles on mobile and social – a personalization effort that makes the vehicle exactly to the specs of the viewer."
Fueling mobile engagement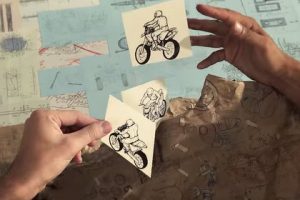 Honda's omnichannel marketing campaign will debut during the Rio Summer Olympics later this month. The automotive brand is, however, letting fans have a sneak peek at the campaign with the introduction of the "Power of Ridgeline" sixty-second TV spot.
Honda is extending the reach of its promotional efforts by gearing up to roll out four stop-motion videos on social media in mid-August. Each video was designed to showcase the Ridgeline pickup truck's special features, such as expansive cargo and cabin space, dual action tailgate and robust payload capacity.
The vehicle manufacturer has also teamed up with woodworking expert "Wood Whisperer" to develop another series of clips. In this set of four mobile-optimized videos, the woodworker leverages the Ridgeline's features, such as the AC outlet and in-bed trunk, to make a barbecue cart, bench and connect-four game.
The Wood Whisperer will also demonstrate how these pieces can be created with sheets of plywood that can easily fit into the back of the pickup truck.
The last activation in the multi-pronged social campaign will see Honda feature its new vehicle on Tested.com, a site created by Mythbusters star Adam Savage. This fall, Tested.com visitors – as well as Facebook and YouTube users – will see six "Features Not Standard" episodes highlighting the truck's unique aspects.
Mobile in the front seat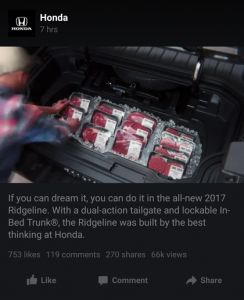 Additionally, Honda's Ridgeline campaign will encompass several portal homepage takeovers on MSN and Yahoo's sites.
While many automotive brands have been making a stronger push for digital marketing strategies, Honda in particular has established itself as a purveyor of mobile.
Honda was one of the first automakers to roll out advertisements placed within mobile wallets, enabling the brand to target consumers after the initial ad impression with notifications regarding upcoming sales events.
Additionally, the automotive manufacturer recently revamped its about Web site with a mobile-first design that provides a seamless experience for on-the-go consumers interested in real-time information.
However, to truly make a splash on social with its latest mobile video series, Honda should shift its personalization capabilities into first gear.
"From the changing of the exterior and interior colours to the augmented reality of 'putting an individual behind the wheel,' the bar is extremely high when it comes to selling cars and trucks," Mr. Hasen said. "Beautiful stop-frame videos may be novel, but will they [incite] test drives and sales?"
Source: Mobile Marketer