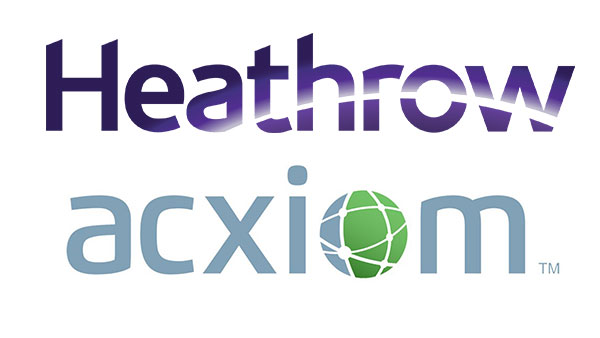 Acxiom announced that Heathrow has signed a multi-year extension to its current working relationship, expanding the provision of strategy, data, and analytical services, underpinned by the 'Connected Spaces' person-engagement platform, to Europe's busiest airport.
The Acxiom services allow Heathrow to use customer data to understand and react to customer events and actions in real-time. It streamlines and enhances the customer experience from booking to departure gate, and every point in between. The solution unites information in a privacy compliant way from sources across the enterprise, such as Heathrow Boutique, Heathrow Rewards, Official Heathrow Parking, Heathrow Express and in-terminal service messaging, to create a uniquely relevant and responsive communications service for as many passengers as possible.
Marking the latest development in a relationship that has lasted for well over a decade, the Heathrow/Acxiom partnership has its foundations in ethically used, person-level data, ensuring that everything is based on the most important thing to the airport, its passengers.
The Acxiom/Heathrow relationship includes Acxiom's professional services teams, who support Heathrow in its passenger engagement strategy, customer journey planning, campaign execution services, data analytics, and data distribution services. The expansion of this successful partnership ensures that customer data is the driving force behind Heathrow's customer-centric ambitions, developing truly omni-channel experiences for passengers.
This follows Acxiom's recent achievement of 'Specialized Partner' status with Adobe. The accreditation places Acxiom in an elite category within the Adobe Partner ecosystem.
Commenting on the extension, Kylie Andrews, Head of eBusiness and CRM of Heathrow, said, "Over 78 million passengers travel through Heathrow on an annual basis and we have a vision to enhance their experience, from the comfort of their sofa before they leave home, all the way to their destination. The services Acxiom provides to us are fundamental to this vision."
Christian Peck, UK Managing Director at Acxiom, said, "Heathrow is a true leader in delivering a modern, data-driven customer experience. We're proud to continue and expand our strategic relationship with them."
Jason Skelton, Account Director at Acxiom, adds, "Understanding individual traveller's needs from the second they engage with Heathrow through to the moment their plane takes off and then when they come back again is a mammoth undertaking for an organisation of Heathrow's scale. Our solution makes a real difference to Heathrow's customers, constantly working to turn passenger insights into better experiences and by doing so it has already increased average known-customer spend during their time in the airport by 23%."
Source: Acxiom