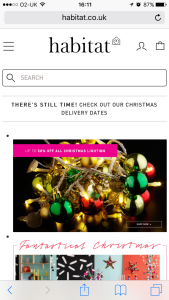 Homewares and furniture retailer Habitat has unveiled its new eCommerce platform, designed by digital commerce consultancy Salmon, which aims to capture a mobile audience and take advantage of the increase in traffic it has seen over the last year.
In the past 12 months, the brand has reported a 35 per cent increase in traffic to its website, with 50 per cent of consumers now reaching the company via smartphone or tablet. This prompted the firm to evolve the online experience it was offering customers, placing more of a focus on mobile consumers.
Key features of the new eCommerce platform include a refined user experience with easier navigation and multi-divide image browsing, enhanced search function, an easier check-out process and improved rich editorial content that will keep visitors engaged and build the brand.
The new platform will also allow for near-term developments such as the introduction of user-personalised experiences across channels, and the implementation of a click-and-collect service from the brand's flagship stones and its 84 mini Habitat stores UK-wide.
"We've already received very positive feedback from customers about their online experience with us on the new site and conversion figures show the new platform is making it much easier to shop with us online," said Jackie Bullock, head of eCommerce at Habitat.
"At the start of the project we identified a series of customer demands that we simply could not meet with a platform that was being outpaced by our competitors. Our aim was to upgrade to a more flexible, sustainable platform that would support our multi-channel growth and at the same time allow us to develop an inspirational brand experience – and this is what the new platform has allowed us to do. Now our customers are more immersed and inspired by their online journey, and we're excited about starting phase two and showing the true capabilities of the new site."