Real-world location intelligence provider Gravy Analytics and omnichannel data powerhouse V12 Data, announced their partnership in offering exclusive audiences created by merging data sets, which can now be used in programmatic advertising campaigns.
This partnership is powered by LiveRamp, an Acxiom company and leading provider of omnichannel identity resolution, and their Data Innovators program. These new audiences combine Gravy's mobile location-driven behavioural data with V12 Data's demographic data for precision ad targeting. As a result of this partnership, consumers will experience fresher, more relevant digital engagement from brands, and discover offerings that meet their needs more easily.
Participants leverage LiveRamp's IdentityLink to deterministically combine data assets from their cookie, mobile or offline sources to co-create enriched, people-based segments that can be greater than the sum of their parts. For example, these new audiences bring together Gravy's most popular behavioural segments with V12 Data's consumer demographic data. Gravy segments like 'Electronics Buyers', 'Health Nuts' and 'Discount Shoppers' are partitioned by V12 Data's demographics like age, gender, household income, presence of children and ethnicity. Resulting audiences include 'Electronics buyers with household income above $150K', 'Female health enthusiasts', and 'Discount shoppers with children in the household'.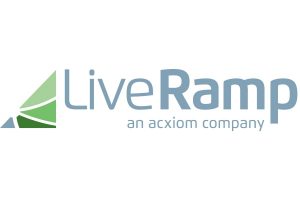 "We are excited to be working with Gravy Analytics and LiveRamp to incorporate our consumer demographic data into a wide range of behavioural audiences," said Anders Ekman, CEO of V12 Data. "LiveRamp's turn-key platform lets us easily connect V12 Data's robust demographic data to Gravy's consumer insights. Their technology makes it possible for us to build these precision programmatic audiences at scale."
More than 400 combined Gravy & V12 Data segments are now available through LiveRamp's IdentityLink Data Store feature for audience targeting. These powerful, multi-dimensional audiences are designed to meet the complex needs of today's advertisers.
For example, a manufacturer of women's exercise clothing can now market directly to known female athletes. Or, an active adult housing community can market directly to in-market home buyers of retirement age. New audiences are regularly added to the LiveRamp marketplace to meet new market opportunities and in response to customer requests. This partnership will enhance the relevancy and accuracy of the consumer's digital experience.
"Marketers have successfully targeted consumers by demographic for years," said Anurag Mehta, SVP & GM, Gravy Analytics. "Gravy is thrilled to partner with V12 Data and LiveRamp to extend the reach of our consumer behavioral data. Our behavioral insights derived from consumer behavior observed in the physical world, coupled with V12 Data's market-leading demographic data, make it even easier for marketers to reach their ideal consumer with their advertising message."

Gravy Analytics and V12 Data are among the first participants in LiveRamp's Data Innovators program. The program is designed to provide unique, exclusive, deterministic data sets for marketers, and a new revenue stream for data owners. Marketers using LiveRamp's IdentityLink solution can access the Gravy & V12 Data audiences via IdentityLink's Data Store feature, and activate the segment by distributing directly to their media platform of choice. LiveRamp's platform and IdentityLink offer data providers and marketers a privacy-compliant means to resolve disparate data from multiple data sources.
"Our Data Innovators Program is designed to empower data leaders across the industry to join forces, leveraging LiveRamp's identity resolution, to create powerful, fresh, people-based solutions for marketers," said Luke McGuinness, GM Data Store, LiveRamp. "By supporting a robust data ecosystem and enabling our partners to combine their respective strengths, we're giving marketers access to new and more effective ways to connect with consumers."
Source: Gravy Analytics