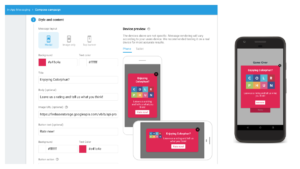 Firebase, Google's default platform for app developers, has had a series of updates since it was acquired four years ago, and today brings the latest in that series, adding in-app messaging, new analytics reports and more.
The new updates are aimed at helping developers to build better apps, improve their app quality and grow their businesses, building on top of Google Cloud to provide users with technical scale, enterprise-grade access control and management, and machine learning strength.
In-app messaging enables developers to send targeted and contextual messages to users as they navigate within the app. Developers can customise the look and feel of these in-app notifications, while integration with Firebase Predictions and Google Analytics for Firebase means that users can react to current behaviour and generate data on how likely users are to take certain actions.
The update also adds integration for Atlassian's JIRA, enabling users to create JIRA issues based on crash reports within Firebase. In addition, Firebase has strengthened its connection to Crashlytics, which was acquired from Twitter in 2017, enabling developers to export data to BigQuery to analyse it, and then visualise results using Google's Data Studio.
Firebase Cloud Messaging is also getting a new reporting dashboard, while Firebase Console's Project Overview page has received a full design overhaul intended to give users a complete picture of their app's health and status on a single page.
Finally, Firebase Hosting, the platform's web content hosting service, has been given a small update, enabling users to host multiple websites within a single project. Updates should also be sped up with a new feature that only uploads files that have changed between releases.
Source: Mobile Marketing Magazine