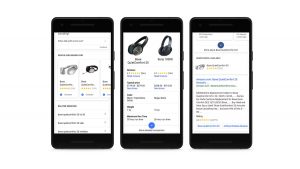 Elevating its implementation of latent semantic indexing, Google has updated its shopping tool. The new features will allow users to discover, research, and compare products on Google Shopping with greater proficiency, according to the company.
In the blog post announcing the update, Jennifer Liu, product management director for Google Shopping, said mobile shopping on Google was redesigned to help users search for gifts on the go, bringing more product information to the forefront.
"When you search for a specific product, Google.com now shows you other helpful information, like related items, and allows you to compare reviews, prices, and other specs, side by side," she added.
Discovery
The addition of a "Quick View" button below product cards in the carousel gives users the ability to learn more about a product. Tapping the button results in a bigger image, details on the product, reviews of the product, reviews of the seller, and the deal on the product offered.
Research
When searching for a specific product, users will be offered an updated Knowledge Panel which includes the above data points as well as videos. For broad categorical searches, users will be greeted by a buying guide to close the gap between evaluation and conversion.
Comparison
Ad copy choices impact campaign performance, and Google houses the largest dataset of them all. Liu said that seasonal searches containing the word "best" have doubled in two years, with advertisers incorporating the word into their ad copy. In doing so, they open themselves up for comparison during searches.
Advertisers and agencies that want to stand out will need to encourage reviews from happy customers in order to close the gap between comparison and conversion.
While these changes ultimately commoditise brands, it is important to note that Google Shopping as a tool is most popular during the holiday season, a time when prices can often determine the outcome. Advertisers and agencies can help their product stand out by encouraging reviews from pleased customers and investing in descriptive copy, original images and complimentary deals.
Source: Campaign Live