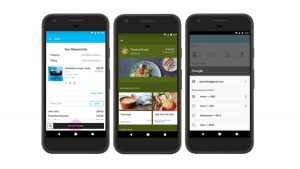 Google has introduced a loyalty API that enables merchants that accept Android Pay to provide customers with offers, rewards, and information about new items.
The Card Linked Offers API provides a new channel for businesses to deliver targeted offers, once a person has added their loyalty card to Android Pay. US bakery company Panera Bread is one of the first to roll out the capability.
In addition, Google says it has made it easier for Android Pay users to add loyalty programs, as well as collaborating with First Data company Clover to enable businesses of all sizes to build Android apps for loyalty, coupon, and gift card redemption.
On top of its work on customer loyalty, Google introduced its Payment API, which enables people to pay in-app or online with any verified credit or debit card saved to their Google Account via products like Play, Chrome and YouTube.
The API means users only have to choose their preferred card, and enter a security code or authenticate with their Android device.
Google says it will enable people in the US to send and receive payments via Google Assistant in the coming months.
Source: Mobile Marketing Magazine