Google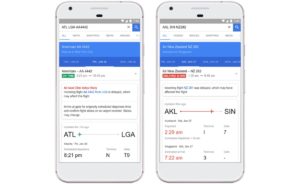 has added updates to its flight booking service Google Flights that will give passengers a heads-up before they arrive at the airport.
Google said in a blog post that Flights' machine-learning algorithms will use historic flight status data to provide live updates and reasons for delays, such as weather or an aircraft arriving late.
Passengers can search for their flight number or the airline and the route, and the delay predictions will be shown even when the information isn't yet officially available from the airlines.
Delay predictions will only show up when Google is at least 80 percent confident of its machine-learning predictions, it said.
Google Flights will also be displaying more information about on-board facilities on American Airlines, Delta, and United Airlines flights, such as seat selection, overhead locker space, and baggage fees to give more transparency to economy passengers.
Google previously added updates to Google Flights to provide clearer information to customers on when flight prices rise or deals expire.
It also launched Google Trips in 2016, an app described as "a personalized tour guide in your pocket" that helps travellers find the best tourist attractions and plan an itinerary.
Source: ZDNet