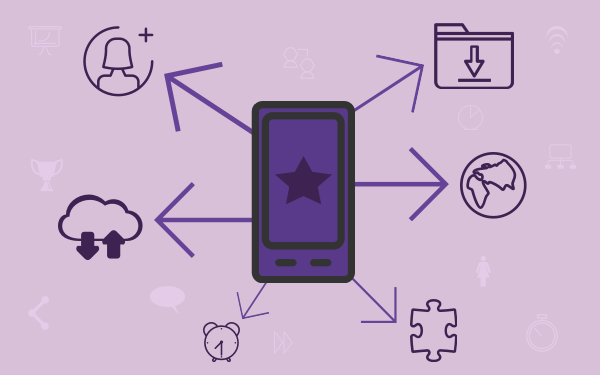 Social collaboration works for work, and what could be more social than mobile phones?
The rising use of mobile technology has led to a growing need to provide mobile-optimized versions of everything, and is leading to a seismic shift in the workplace. A growing market of Millennials say that they would rather use text to communicate both within the workplace and as customers, and even the sticklers within your company realize that having a phone has become crucial in the corporate world.
The increasing popularity of bring-your-own-device (BYOD) programs in the workplace means that employers must be ready to share information and communicate across a variety of platforms. It also means that workplaces are changing from a "nine-to-five" atmosphere towards one that is much more geared towards work-life balance.
Are today's workplaces prepared for this influx of new ways to communicate and work together?
It's hard to say. One thing that's sure is that it's crucial to implement a system that allows your company to be secure as well as allowing communication wherever your workforce is, whenever they need, particularly given the rise of remote workers. Social intranet systems that allow your workforce to communicate on-the-go and implement new strategies, such as allowing your sales team to go mobile, can be extremely useful in creating a seamless transition in the development of a workplace for millennials and other technologically-savvy employees.
Although the social collaboration aspect of your technological progress might be what first comes to mind when you think "mobile", it's also vital the other ways in which switching to mobile-optimized technology can benefit the way in which you work. Implementing mobile-based business social software allows you to cross the barrier caused by time zones, both for your customers and your employees, and incorporate a much more flexible schedule into your workday. It's thus important to reflect on the ways this can reduce your workload and streamline business processes; for example, share calendars, send out announcements, and help employees find the answers they need without requiring protracted searching and meetings
What can you do to assist the rise of new social technology within your organization, and balance your business's needs with the technological needs of the new workforce?
First of all, it's important to develop a roadmap that outlines the evolution of your mobile business needs in conjunction with those of your workforce. Assessing the needs of stakeholders within your organization, such as the departments who will be using it as well as the IT technicians who will have to help implement any solution you choose, is also vital to ensure the success of your journey through the 21st century.
Some questions to ask include: how will employees be using your mobile tools? What are their compelling reasons to log into their web portal every day? How easy will it be to implement and use mobile, self-service solutions?
Determining the answers to these questions is crucial to establishing a foundation for success with mobile technology. Although a corporate intranet might seem like an outdated concept, the new social intranet incorporates the flexibility of mobile with an easy way to connect across your workforce and establish a work-life balance for all.
Source: Business 2 Community