Online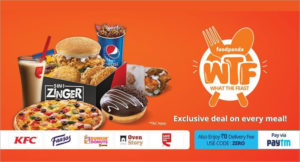 food marketplace Foodpanda India is hosting its first virtual food festival – What The Feast (WTF). The show will go on till the Good Friday long weekend (April 1st 2018) nationally.
The festival brings together a plethora of special menus, discounts and offers from top restaurants across the country, like Cafe Coffee Day, Faasos, Dunkin Donuts, KFC, Ovenstory and many more.
The fest celebrates the foodie in everyone and evokes a sense of celebration around eating moments throughout the day. As part of the festival, Foodpanda India is partnering with top food outlets to offer discounts up to 60% to consumers on their favourite dishes and cuisines, giving a guilt-free pass for indulgence at the best price.
"Indians share a remarkable passion for food and this connection with food gets intertwined with moments throughout the day. With our first national virtual food festival "What The Feast", we are celebrating the special bond our consumers share with food and their favourite restaurants. We see a 40-50% increase in our orders on weekends; owing to that, we have kept the timing for this festival to capture the upcoming Good Friday long weekend. Through this festival, we hope to elevate ordering-in as a dining choice among Indians to celebrate food moments that matter." said, Kunal Suri, COO, Foodpanda India.
Sagar Kochhar, Chief Marketing Officer, Faasos said, "It is an absolute delight to partner with Foodpanda for their virtual food festival – What The Feast. This partnership comes naturally to us as it helps us celebrate different food missions right from breakfast to tea & snacks, and dinners to single-serve meal offerings like a lunchbox. It is a step further in our commitment to be customer-centric and provide a wide range of delectable choices of cuisines."
Foodpanda has also announced a host of social media offerings, digital contests and activations to reveal some of the biggest offers from the food festival. Promoted across print, digital, social radio, OOH and offline activations, the festival will encourage consumers to share their WTF worthy moments and celebrate their food.
Source: Exchange4Media