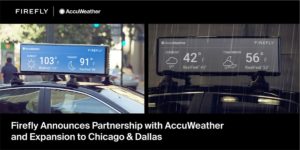 Firefly, the company leveraging taxi and rideshare vehicles to build a smart city media network, announced the launch of a first-of-its-kind integration with global weather forecasting leader AccuWeather, bringing weather-based dynamic content triggers to Firefly's smart media platform. Alongside the new partnership, the company is also expanding operations to the streets of Chicago, Illinois and Dallas, Texas. 
Firefly drives the next generation of advertising technology by delivering highly effective advertising campaigns using geo-targeted technology, concurrently boosting income for taxi drivers, rideshare and last-mile delivery drivers. Already trusted by household names like Puma, HotelTonight, Brex, DoorDash and more, the company provides its wide customer base with dependable hyper-relevant marketing content forecasted to reach a total of over 600 million impressions per month through the end of the year. 
Delivering on its promise to empower unique campaigns, Firefly is launching a first-of-its-kind integration with AccuWeather, a global digital media company that provides highly accurate commercial weather forecasting services to a worldwide audience in a highly scalable manner.
The internationally respected company will deliver unique dynamic campaigns through Firefly in all of its existing markets. The screens – already programmable based on driver routes, area demographics, traffic patterns and time-of-day – will now bring creative that shifts based on real-time weather conditions to hubs like New York City and San Francisco. These dynamic content triggers allow brands to deliver messages drawing from the local environment at a level never seen before. 
"We're delighted to provide yet another way to enhance the dimension of our messaging that personalises weather updates with increased, relevance, accessibility and convenience for daily commuters," explained AccuWeather Global Chief Revenue Officer Eric Danetz. "Firefly is an ideal partner, enabling us to track actionable insights that ultimately improve the quality of the user experience." 
Thanks to partnerships with Supply Side Platform (SSP) Rubicon Project and Demand Side Platform (DSP) MediaMath, the platform is the first to offer full-funnel measurement and attribution solutions via its programmatic transactions. 
"With Firefly, we're overcoming the limitations of traditional out-of-home," explained Firefly CEO and cofounder Kaan Gunay. "Our work with AccuWeather exemplifies the unique capabilities of our high-value platform because it shows that brands now have the opportunity to connect directly with their audiences in the real world in all-new, exciting and effective ways." 
To expand the accessibility of its specialised OOH methods, Firefly continues to expand moving its operating system to burgeoning rideshare markets of Chicago, Illinois and Dallas, Texas — the third and fifth-largest media markets in the nation, respectively.
These expansions further place Firefly in top markets, adding to its current activations in San Francisco, Los Angeles and New York City. The move extends Firefly's position as the nation's fastest-growing street-level media network, with drivers achieving a combined total of more than 24,000 hours on the road. 
Source: Firefly