Facebook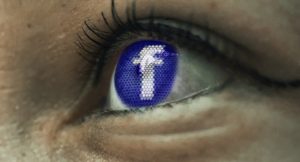 says changes to its News Feed algorithm has cut the amount of time users spend on the platform by about 50 million hours each day as the number of daily active users increased by 14% to 1.4 billion in 2017.
The reduction in user time spent on the platform hasn't dented its ad revenue, which grew by 49% to US$39.9 billion in 2017.
This roughly equates to a touch over two minutes for each of Facebook's daily users and highlights a trend of users spending less time on the platform.
In releasing Facebook's annual results, founder and CEO Mark Zukerberg said that News Feed changes made over the past year are designed to ensure, "Facebook isn't just fun to use, but also good for people's well-being and for society".
They are also designed to make the News Feed a more enjoyable user experience with content that has high engagement prioritised over content with lower appeal.
"We're doing this by encouraging meaningful connections between people rather than passive consumption of content. Already last quarter, we made changes to show fewer viral videos to make sure people's time is well spent," Zuckerberg says.
"In total, we made changes that reduced time spent on Facebook by roughly 50 million hours every day. By focusing on meaningful connections, our community and business will be stronger over the long term."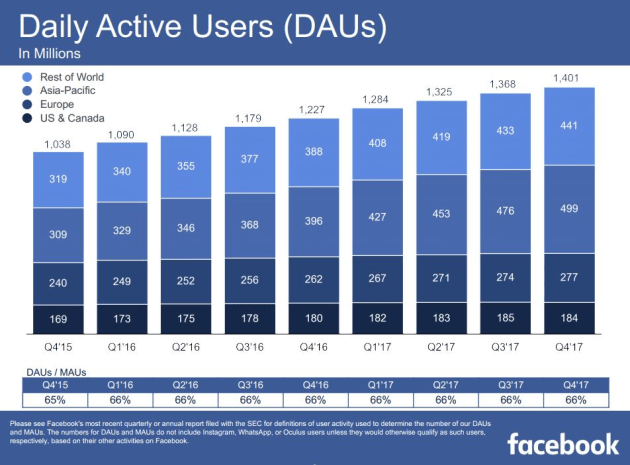 Facebook makes its money by keeping users on platform for longer so that it can serve more ad opportunities to brands.
Although the social media network risks losing some stickability by culling viral content, in the longer-term it hopes the strategy to prioritise personal updates will eventually lead to people staying on the platform for longer.
News Feed changes haven't dimmed advertiser interest in the platform. In the 2017 fiscal year, Facebook grew advertising revenue by 49% to $39.9 billion, including 48% revenue growth in Q4.
Facebook's operating margin grew by five percentage points to a healthy 50% in 2017, including 57% in Q4. Net income dipped slightly in Q4 to $4.27 billion due to changes in US tax law, while earnings in 2017 per share grew 54% to US$5.39.
Facebook doesn't disclose how much revenue it makes in individual countries but its regional breakdown shows that it made the majority of its advertising revenue in North America ($19.9 billion) and Europe ($9.71 billion) followed by Asia-Pacific ($6.72 billion) last year.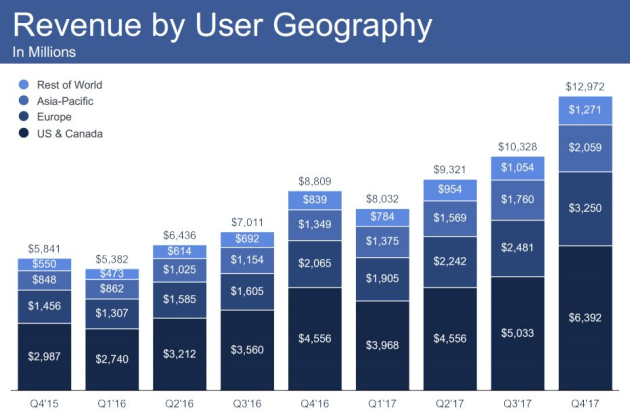 The Asia-Pacific region's contribution to advertising revenue is about 16.7%, which is up by about 0.5 points on 2016, but well below the contribution from the US (49%).
Ad revenue per user in the US and Canada is $26.76 to Europe's $8.86 and Asia-Pacific's $2.54, according to Q4 figures.
This means that Facebook generates as much ad revenue from one American user as it does 10 users in the Asia-Pacific region.
The majority of its advertising revenue is on mobile devices, contributing 89% of all ad revenue, up from 84% in 2016.
Another major change is that Facebook increased its headcount by 47% to 25,105 – with more recruitment in the pipeline as the social media network bolsters its content review team.
Source: AdNews