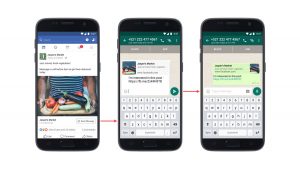 The monetisation of WhatsApp by parent company Facebook took another step forward: Advertisers on Facebook can now include a button on their Facebook boosted organic posts that enables users to contact them via the messaging application.
Facebook introduced click-to-Messenger Facebook ads in November 2016 as part of its launch of version 1.3 of its Messenger Platform, and click-to-Messenger ads debuted on Instagram in May 2017.
However, unlike Messenger, the click-to-WhatsApp option is only available at launch to pages boosting organic posts, and not via Ads Manager or Facebook's Marketing API.
The social network said more than 1 million Facebook pages currently include WhatsApp numbers in their posts, and Facebook product marketing manager Pancham Gajjar told Adweek: "Many people already use WhatsApp to communicate with small businesses. It's a fast, convenient way to stay in touch. By adding a click-to-WhatsApp button to Facebook ads, businesses can now make it even easier for people to learn about their products, set up an appointment or use their service."
How it Works: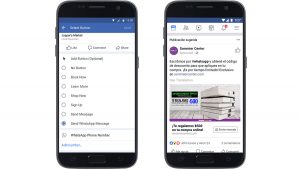 Starting in December, businesses that have WhatsApp numbers can add 'send message' buttons with the WhatsApp logo to their Facebook ads, and those ads will only be delivered to Facebook users who have WhatsApp installed on their phones.
People must add businesses' WhatsApp numbers to their contacts to initiate conversations.
Once they do so, the messaging app opens with a default message expressing interest, which can be edited by users before being sent. An image of the ad appears within the WhatsApp conversation to remind people which ad they are responding to.
Facebook said it will measure the number of clicks to WhatsApp from each boosted organic post in order to allow advertisers to gauge their results.
Source: Adweek