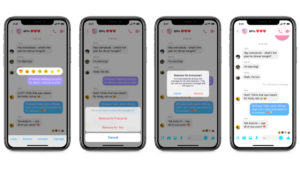 Earlier in November 2018, reports suggested that Facebook was planning to introduce an 'unsend' feature on to Messenger that would give users 10 minutes to delete a message that they gave send before it is read. And now nearly a week later, word is that the social media giant has started rolling the update to its users.
According to a report by TechCrunch, Facebook has started rolling out the feature onto Messenger for users in Poland, Bolivia, Lithuania and Colombia on iOS and Android platforms. The company is planning to roll out the feature globally soon.
Notably, the unsend feature on Facebook Messenger is called 'Remove for Everyone', which is similar to the terminology the company uses on its social messaging feature, WhatsApp. Another design aspect that Messenger seems to have borrowed from WhatsApp is the epitaph that the deleted message leaves. Once deleted, Messenger leaves a casual reminder of the missing text with the words that read– 'You removed a message'.
Users will have a window of 10 minutes to delete a sent message, however, the social media giant will retain the deleted message for a short period of time so that it can review it in case the receiver reports it for harassment.
If you are wondering why Facebook choose a limit of 10 minutes, the reason as Facebook's head of Messenger Stan Chudnovsky revealed to the publication is simple. "We looked at how the existing delete functionality works. It turns out that when people are deleting messages because it's a mistake or they sent something they didn't want to send, it's under a minute. We decided to extend it to 10, but decided we didn't need to do more," he said.
Apart from this, the company is also planning to expand the functionality of its unsend feature. The company is also working on a feature that would enable users to set an expiration date to specific conversations. The feature would essentially enable users to start a thread of encrypted conversation with another Messenger users and set an expiration limit to the conversation, much like other social messaging platforms like Telegram and Signal. However, the company is still tinkering with the details of the features, and we will get to know more about the feature in the days to come.
Source: India Today