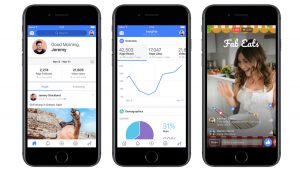 Facebook remains as committed as ever to the creator community and on November 17 the social media giant launched an app built and dedicated specifically for them.
"We are really excited by the ways creators are already finding success on Facebook, and now, we're happy to share the launch of the Facebook Creator App and a new website for this community," the company said in a statement.
Creators worldwide are sharing their videos on Facebook to build a community around their passion and via Facebook, creators can connect with more than two billion potential fans and collaborators, get to know their community, talk directly to fans with Live and monetise with products like branded content. This new one-stop shop for creators will let them easily make original videos and go live with exclusive features.
"Creators are integral to Facebook and build some of the strongest communities," said Facebook's Fidji Simo in a post. "They bring people together around their passion, from things like cooking or comedy to really cool unique interests like beatboxing. And, if you're a creator, no matter what you're passionate about or how far along in your journey you are, you can find fans who share your enthusiasm on Facebook. To help creators grow on Facebook, it's important that we continue building tools for them to be successful."
The company is announcing two initiatives to help creators unleash their creativity: an app that helps them manage their presence on Facebook and a central destination where creators can get the resources they need to improve and grow.
The Facebook Creator App will allow users to easily create original video, go live with exclusive features and connect with their community on Facebook – all from their pocket. Facebook gathered feedback from creators and will continue to take cues from the community in an effort to make the Facebook experience fun and easy so they can do what they do best.
Features include the Live Creative Kit, which will allow access to exclusive tools that make it easy to create live broadcasts with a personalized and fun feel. Creators can add intros as openers to their live broadcasts, outros that conclude them, custom live stickers that viewers can use to interact and graphic frames to create a consistent brand.
The Community Tab will allow users to connect with fans and collaborators with a unified inbox, which centralises comments from Facebook and Instagram and messages from Messenger.
Users will also be able to access fun camera effects and frames and easily cross-post content to other platforms, in addition to Facebook Stories to engage with their fans with easy-to-access metrics to inform content creation, including analytics about their Page, videos and fans. Creators making shows for Watch will also be able to log into the app as their Show Page to access the features above. The Facebook Creator App launches globally today on iOS and will be rolling out to Android users in the coming months. The app is open to individuals on Pages or profiles and Facebook will be gathering feedback in an effort to create the best experience for creators.
In addition, Facebook is launching a new website dedicated to providing creators with inspiration, support and education. Facebook for Creators will be a place where creators can find resources and tips on how to create great videos, connect with fans and grow on Facebook to learn skills and techniques to make content shine and find answers to common creator-specific questions.
"We are excited to see how creators use these tools to share video, interact with their followers and grow their community on Facebook," the company said. "We are just getting started and look forward to continuing to work collaboratively with creators to make their experience on Facebook even better."
Source: Forbes