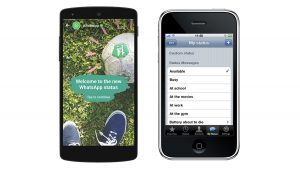 Soon after launching Instagram Live Stories, Facebook has made an update to WhatsApp that again challenges Snapchat ahead of its IPO.
WhatsApp Status is a tab that will allow users to share photos and videos with friends and contacts. The platform promises the content will be end-to-end encrypted.
TechCrunch reported that the feature mirrors Snapchat as it provides stickers to decorate photos and videos, and the posts will disappear in 24 hours.
This move mirrors an earlier update from Facebook that added live video to its Instagram Stories function in January.
A year ago, WhatsApp reported that it had 1 billion monthly users and hosted 100 million calls every day.
Source: Campaign Live