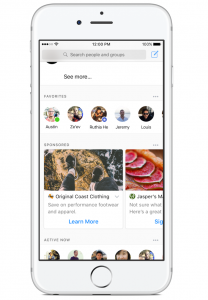 Facebook has begun testing ads in its Messenger app in Australia and Thailand. The test will enable businesses to place card-style ads in the area of Messenger below recent conversations – Facebook ensures ads will not appear in conversations, unless the user converses directly with the brand.
The social media giant first introduced ads to Messenger in November – in the form of sponsored messages. This enabled businesses to message users or highlight their messaging bot to users that had previously initiated conversation with them.
"Businesses have long been telling us that they are very excited about the potential of the Messenger platform to reach their customers and help them to drive sales, build brand awareness and increase customer satisfaction," said Eddie Zhang, Messenger product manager, in a blog post.
"Our current offerings like ads that take people to Messenger conversations from their Facebook News Feed and sponsored messages have demonstrated that people are interested in hearing from and interacting with business and brands on Messenger. In fact, people are already regularly messaging businesses with over 1 billion messages sent between people and businesses on Messenger each month."
Source: Mobile Marketing Magazine