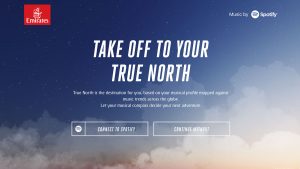 Emirates has collaborated with Spotify to help Australians discover their ideal travel destination and find their 'True North' as part of a new campaign.
The campaign is an interactive and personalised experience that connects users with destinations across the globe that are aligned with their listening history and musical preferences on Spotify, using a custom algorithm on the True North microsite.
Visitors can identify their True North by linking their Spotify account and answering a series of questions about their music taste in order to be matched with one of 12 destinations from Emirates' global route network. Their recommended destination, which can include Glasgow, Singapore and Madrid, is determined by matching the musical genres distinctly popular in that region with the genres that are distinct for that person based on their Spotify profiles.
Upon arriving at their True North destination on the microsite, users will be delivered a unique Spotify playlist developed exclusively for them based on their music taste, as well as a bespoke guide by hand-picked locals in each destination. The 'insider guide' will include the music scene of each destination, ranging from curated Spotify playlists to local music hotspots and best places to stay in the heart of the music scene.
Spotify and its technology vendor, Hydric Media, used a combination of data science and human curation to create unique music 'profiles' for each featured city that defined what was unique, musically, about that destination. The custom-built True North algorithm analyses an individual's music taste to reveal the place that's most likely to be in tune with them.
"Emirates is committed to connecting travellers to new destinations, music and cultures as part of its vast global route network. We strive to be at the forefront of innovation and have worked closely with Spotify to bring this exciting new concept to life, helping Australians find their True North," said Boutros Boutros, divisional senior vice president of corporate communications, marketing and brand at Emirates.
"Each destination has a story to tell, from the music to the people, which is why we continue to improve connectivity for our passengers. From the moment they step aboard our world-class aircraft, we want them to have the best experience possible," she added.
The experience is not limited to Spotify listeners alone, people without an account can still visit the microsite and discover their True North by answering questions on their musical taste.
Source: The Drum