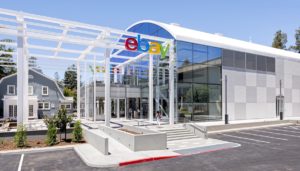 eBay has agreed to buy a 5.5% stake in eCommerce marketplace Paytm Mall in a renewed attempt by the San Jose, California-based company to grab a foothold in India's fast-growing and intensely competitive online retail market.
The companies did not disclose the value of the transaction in a joint statement on Wednesday. eBay and Paytm Mall also did not say whether the agreement contains any provision for eBay to enhance its shareholding in Paytm Mall in the future.
A person with direct knowledge of the deal terms said eBay is investing $165 million in the Noida-based firm, raising the value of Paytm Mall to about $3 billion from $1.5-2 billion last year.
As part of the agreement, some of eBay's inventory will be made accessible on Paytm Mall, the companies said.
"We will jointly select the inventory we want to bring here. It will be done in a month's time," Vijay Shekhar Sharma, founder and chief executive of One97 Communications Ltd, said in an interview. "We have done a recce. More than one million eBay products will be made available on Paytm Mall."
The alliance between eBay and Paytm Mall is likely to add to competition in India's online retail market, dominated by Amazon.com, Walmart-owned Flipkart and Snapdeal. Online retail sales in India are expected to more than double to $71.94 billion by 2022, from $32.7 billion last year, according to market researcher eMarketer. An expanding base of internet and smartphone users, and favourable demographics comprising a growing young population and a burgeoning middle class are among the factors fuelling growth in India's online market.
"After exiting Flipkart and starting its own operations in India, eBay's alliance with Paytm Mall could be a way to give boost to its operations here with access to Paytm's consumer database if that's on the table due to this strategic investment," said Anup Jain, managing partner at Orios Venture Partners, an investment firm.
Paytm Mall is operated by Paytm eCommerce Pvt. Ltd, the eCommerce arm of One 97 Communications Ltd, which runs Paytm and Paytm Payments Bank. Paytm Mall bets on the offline-to-online model (O2O), a departure from the usual inventory-led business or creation of private labels. As part of the model, orders are serviced from local brand stores, offering synergies in logistics and warehousing. These brands have their own web pages on Paytm Mall for easy access.
Backed by investors including SoftBank, Alibaba, SAIF Partners and Ant Financial, Paytm Mall recorded gross merchandise value (GMV) of ₹1,300 crore in 2018.
Inspired by Alibaba's Tmall in China, Paytm Mall, currently the third-largest in India's eCommerce market, competes with Flipkart and Amazon India.
"Today's Indian consumers have expanded their horizon and now like shopping for unique products from international platforms," said Rudra Dalmia, executive director of Paytm Mall. "This new strategic collaboration will ensure Indian consumers are given greater access to eBay's vast selection of inventory."
Founded in 1995, eBay is one of the world's largest online marketplaces. In 2018, it enabled $95 billion of GMV.
India has, however, been a tough market to crack for eBay. Though it was one of the early entrants, having forayed into the Indian market in 2004 and starting operations through Bazee.com that it had acquired in 2013, eBay found it tough to hold its own against Flipkart and Amazon India. Two years ago, eBay sold its India operations to Flipkart, but a year later Flipkart shut down eBay.in.
Since then, the company has relaunched eBay.in in early January, turning its focus to enabling India's small- and medium-sized businesses to sell their products to eBay's 182 million customers around the world. The company's focus on creating alliances with Indian eCommerce firms, however, is clear. In 2014, eBay said it was leading a $133.8 million round of funding in Snapdeal, as part of its strategy to accelerate growth in emerging markets.
"This new relationship will accelerate our cross-border trade efforts in a rapidly growing market," said Jooman Park, senior vice president for Asia Pacific at eBay.
Source: Livemint