Striving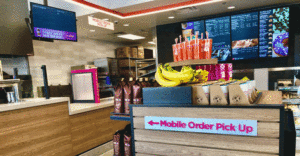 to please on-the-go customers and coffee junkies, Dunkin' Donuts is unveiling a next-generation unit in Southern California that features a pickup counter for mobile orders, nitrogen-infused cold brew and tabletop outlets to power devices.
"We're making sure we stay relevant and ahead of consumer demand" for convenience, franchisee Parag Patel said during a tour of the location.
The Corona, California location is among 50 new future-experience restaurants Dunkin' Donuts plans to open by the end of 2018. The Canton, Mass.-based company launched the first next-generation unit earlier this year, in Quincy, Mass.
The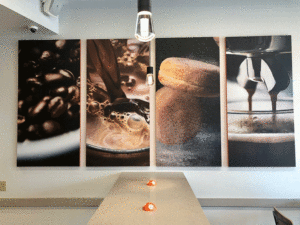 first two test locations have adopted new "Dunkin'" only marquee branding, underscoring the chain's pivot to compete with McDonald's and Starbucks with its beverage program. To date, five restaurants throughout the chain have dropped "Donuts" from their name, including a location 50 miles away, in Pasadena, California.
Patel, a second-generation franchisee, said the redesigned restaurants offer customers a better visual experience.
The 2,000-square-foot Corona, Calif., location sports an eight-tap beverage system, so customers can view employees pouring the chain's most popular drinks, including cold-brew coffee infused with nitrogen. The nitro cold-brew drinks, which have also been introduced by Coffee Bean & Tea Leaf and Starbucks, are exclusive to Dunkin' prototype units. New furniture includes stylish barstools and tables with easier access to outlets to power phones, tablets and laptops.
Another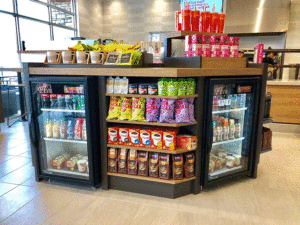 feature aimed at convenience is a mobile pickup counter. Customers who order and pay ahead can skip the line and fetch their food and beverages at a counter dedicated for takeout orders.
"You don't have to interact with anybody when you walk in the door," Patel said.
Innovation is also a major part of the next-generation locations. The drive-thru features a digital menu board, an enhancement aimed at driving sales and improving order accuracy. The board lets the operator display a wide variety of menu items with appealing food images, including promotional beverages and food. The drive-thru also features an order confirmation display, which helps reduce mistakes. Inside the unit, an order status monitor allows customers to track their order.
"It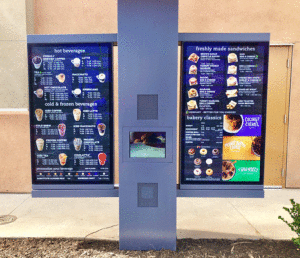 will help you see where your order is in the queue," he explained.
Later this year, the two Dunkin' prototype units will add wall-mounted kiosks. Touchscreen self-serve ordering systems are growing in popularity at other quick-service chains, including Panera Bread and McDonald's. Irvine, Calif.-based Taco Bell is also testing in-store kiosks.
In 2014, Dunkin' Donuts re-entered the California market with the goal of opening 1,000 locations in the state. To date, the company has opened about 60 locations.
Source: NRN