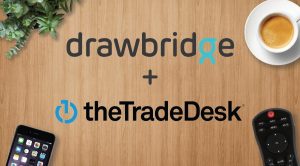 Drawbridge, a leading people-based identity management company, announced that it is enhancing addressability and measurement on TV by deepening its cross-device data integration with The Trade Desk, a global technology platform for buyers of advertising.
Brand and agency clients using The Trade Desk Platform can use Drawbridge's Connected Consumer Graph to extend their first-party mobile and desktop audience segments onto connected TV devices, and vice versa, enabling unified reach and attribution across smartphones, tablets, computers, and connected TV.
"Consumers spend twice as much media time on TV compared to computers and a third more than mobile, and streaming services are now in half of all US households," said Drawbridge's Global Head of Client Strategy, Haylee Adkins. "TV is clearly still a major device, which is why we want to bring this data into our identity graph for brands and agencies to leverage for their marketing initiatives. This is the first step in bridging TV with digital – ultimately we want to provide advertisers access to addressable and linear TV at scale, and we've already started with programmatic TV capabilities."
Thousands of advertisers have activated media with Drawbridge's people-based identity solution through The Trade Desk this year, with the amount of active advertisers more than doubling since January. Drawbridge has seen growing usage across formats including native, in-feed, and video, emphasizing the importance understanding customers across devices and channels.
"We're excited to be solving for addressability and measurement on TV with the Drawbridge team, particularly in the growing channel of connected TV," said David Danziger, VP of Data Partnerships at The Trade Desk. "Ultimately we want to help our brand and agency clients reach their audiences more efficiently, and this is a great example of two technology leaders coming together to create valuable tools to enable that."
Source: Drawbridge