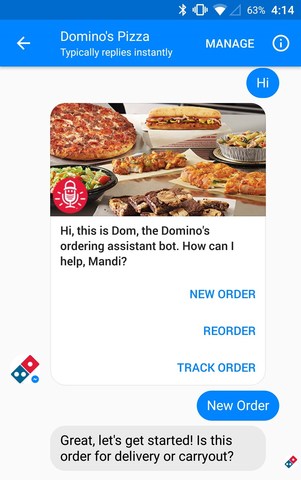 Domino's Pizza, the recognized world leader in pizza delivery and digital ordering platforms, had its game face on and brought even more robust ordering capabilities to Facebook Messenger. Customers can now place any order for any menu item they'd like on Messenger, just in time for February 5 – one of Domino's busiest delivery days of the year. Domino's is the first American pizza chain to have full ordering capabilities on Messenger.
"Prior to today, customers with a Pizza Profile were limited to placing their most recent order or Easy Order via Messenger," said Dennis Maloney, Domino's senior vice president and chief digital officer. "Now anyone, especially those watching the big football game, can place any order for any menu item they want – no Pizza Profile needed – thanks to Dom, our enhanced ordering assistant bot."
As if full ordering on Messenger isn't cause enough for celebration, customers who order on Messenger will receive 20 percent off every menu-priced item in their order when they ask to redeem the coupon for the deal.
"Football teams strive to get better and maintain their winning edge, and Domino's is no different," Maloney said. "Launching Messenger ordering with Pizza Profiles was a great first step, but Dom's ordering capabilities are continuing to advance as Domino's AnyWare technology evolves. We think of ourselves as a brand in progress and wanted to create an even bigger and better ordering experience for customers."
As the New England and Atlanta football teams got ready for their biggest Sunday of the season, Domino's was preparing for it as well. Domino's expected to sell more than 12 million pizza slices nationwide on the day of Super Bowl – about five times more than on a typical Sunday.
Source: Domino's Pizza