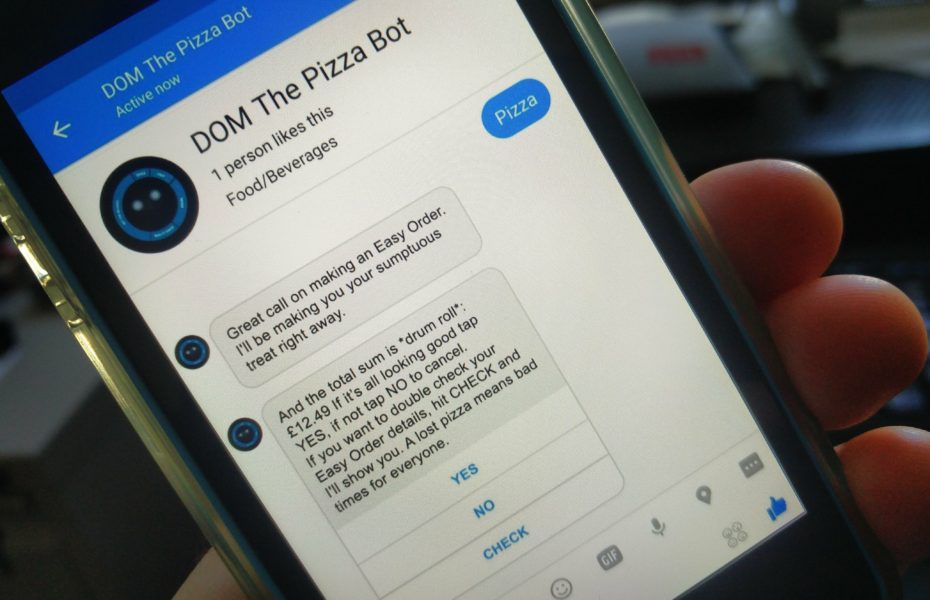 Domino's is the latest company to embrace the bot revolution, with the launch of a pizza-ordering bot for Facebook Messenger.
Launching initially in the U.K. and Ireland only, "Dom" is touted as an "artificially intelligent customer service whiz," according to the press release, and expands the company's existing "Easy Order" service to the world's most popular messaging app.
Easy Order, for the uninitiated, is Domino's online offering that lets users order their favorite pie with the tap of a button within the mobile app or through Apple Watch. Once you've registered a My Domino's account and entered your bank details, Easy Order automatically selects the pizza based on your ordering history (e.g. if it sees that you always order the same toppings), or you can manually configure your preferred pizza within your account. The company also introduced a limited edition physical button for pizza orders last year.
In terms of how this translates into a Facebook Messenger bot, well, it's about as simple as things get. You have to pair your Facebook account with your Domino's account, type "PIZZA" to the Messenger bot, and that's it.
It's perhaps not the greatest example of how bots are being used in customer service, as there's none of the conversational back-and-forth we're seeing elsewhere in the burgeoning bot industry. Plus, there's no way to personalize or tailor the order.
A couple of months back, Pizza Hut unveiled its very own chatbot at VentureBeat's MobileBeat conference. It's scheduled to launch in the U.S. this month, and — similar to Domino's incarnation — it allows Pizza Hut customers to reorder their favourite or saved orders. But early indications suggest users will also be able to ask questions about their order and inquire about deals and promotions. Pizza Hut's so-called social ordering platform will also work via Twitter.
What this latest move by Domino's signals is that the battle is very much on to stay competitive in the digital race and ensure rivals don't get too far ahead. Pizza Hut may have announced its bot first, but Domino's has blindsided its counterpart by launching first, though the service could stand to be more functional as a "bot." For example, it would be greatly improved if a customer could convey their entire order through Facebook Messenger: "Oh, you'd like extra pineapple on your pizza and a large Diet Coke? No problem!," is what we're talking about here. But as it stands, it will certainly prove useful for some.
Domino's has a long history in digital innovation and has offered pretty decent mobile apps for some time. It also recently rolled out a voice-ordering service through Amazon's Echo, and it has enabled orders through sending texts or tweets of pizza emojis for some time. Earlier this year, Domino's launched a zero-click app to make ordering as simple as opening the app.
"We're delighted to allow our customers to order direct from Messenger — with one billion monthly active people using Messenger each month, it's the obvious choice for Domino's," said Domino's digital head, Nick Dutch. "We want to make ordering our freshly handmade pizza as easy as possible, so we're always on the lookout for new ways in which we can do this."
There is no word yet on when Domino's may introduce its pizza-ordering bot to further markets, but it's fair to say that if Pizza Hut is about to unveil its version for the U.S. in the coming weeks, its fierce rival won't be too far behind.
Source: Venturebeat