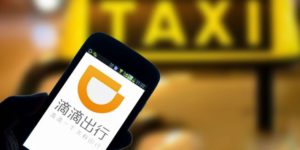 Chinese car-hailing platform Didi Chuxing has launched an in-car audio recording function for journeys, in a bid to enhance its safety practices following the deaths of two passengers.
Didi has launched a trial of the recording function, which will capture in-car audio from the entire journey and then upload an encrypted file to the company's servers. The files will be stored for seven days before being deleted if no complaint is made.
The service will require passengers and drivers to provide authorisation for the recording of their voices. The ride-hailing company has also suspended services between 11pm and 5am until 15 September. It will also introduce a panic button to link passengers directly with police and plans to tighten up driver background checks.
The moves come in the wake of the deaths of two passengers in May and August both of which had used the company's Hitch platform. Didi has also now suspended the Hitch service. Didi founder and chief executive Cheng Wei has also issued a public apology as the company faces increasing backlash from customers and Chinese officials. In a bid to restore trust Wei revealed the company had not made a profit in the six years since it launched and had recorded a loss of RMB 4bn ($585m) in the first half of 2018.
Cheng said, "Didi is by no means an evil company, and would never prioritise generating profit above anything else. We have not been profitable over the past six years," according to the South China Morning Post.
Didi, which is backed by Tencent, Baidu and Alibaba, is rumoured to be planning an initial public offering in the near future.
Source: The Drum