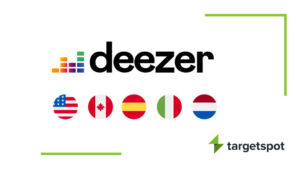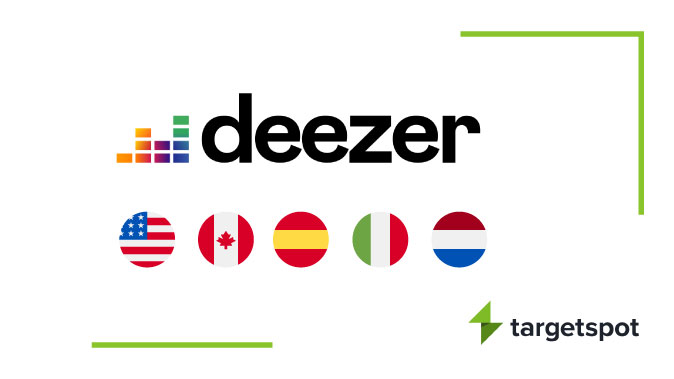 Deezer, the global music streaming service, together with Targetspot, the world's leading digital audio platform, announce exclusive advertising partnership in the United States, Canada, The Netherlands, Spain, and Italy.
As of October 2019, the partnership enables advertisers and brands in the five affected countries to purchase Deezer audio inventory exclusively through Targetspot, leveraging the company's leading expertise in digital audio including direct and programmatic sales capabilities.
Deezer complements the a-list of music streamers and pure players of Targetspot's network, giving brands and advertisers access to millions of active music fans all over the world and one of the most diverse global music streaming catalogues on any device.
The partnership combines Targetspot's sales capabilities and Deezer's state of the art streaming service to enable advertisers to connect to attractive digital audiences.
Combined, Targetspot targeting capabilities and Deezer subscription-only first party data allows advertisers to reach their key audiences with highly relevant messages in a premium music listening context.
"This exclusive partnership is a fantastic match between Targetspot's leading ability to monetize digital audio and Deezer's high end audio streaming platform. Welcoming Deezer in our global offering propels new heights to our mission to connect brands to the most diversified and engaged audiences," says  Alexandre Vekhoff EVP Global Business Development. 
Marianne le Vavasseur, VP Ad Sales, Deezer, said: "It was important for us to find an ad sales house partner in some of our key markets. Deezer has built a high-quality audience and advertising ecosystem, with a well-established in-house advertising sales house. The partnership with Targetspot and the help of their sales team will let us speed up the monetisation of our free audiences through audio formats in the five countries covered by the agreement."
Source: Targetspot