Coca-Cola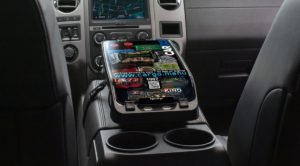 is teaming up with in-car commerce platform Cargo to bring beverages to passengers using Ubers and Lyfts across the US.
The partnership will see Coca-Cola's Smartwater brand become available to purchase from Cargo-equipped rideshare cars in cities including New York, Boston, Chicago, Minneapolis, Washington D.C., Baltimore, and now also Atlanta. The water brand will be offered alongside other snacks and equipment like RXBar, Sour Patch Kids, hangover cures, and phone chargers.
"We're very excited to enter this new distribution channel in rideshare with Cargo," said John Carroll, VP and GM of eCommerce at Coca-Cola. "Cargo offers an innovative solution to helping Coca-Cola deliver refreshment to consumers in their moment of need in a space that was previously hard to reach at scale. We're looking forward to seeing the impact we have on rideshare passengers when they find our product within arm's reach when using Uber and Lyft."
With the introduction of Cargo's in-car commerce in Atlanta, according to the company, drivers there will be able to earn up to $500 more per month in commissions, referrals, and performance bonuses.
Source: Mobile Marketing Magazine