Shoppers
at UK supermarket the Co-op will soon be able to bypass the checkout and instead pay for their groceries with their own mobile phones.
The Co-op has teamed up with Mastercard to trial a new app at the retailer's support centre in Manchester ahead of a wider rollout this summer.
Customers will be able to scan products as they walk around the store. When they have finished shopping, the amount they owe will be deducted from their account with a single click, using Mastercard Masterpass.
The technology also links information from a customer's Co-op Membership account – telling shoppers how much they have saved and, how much the Co-op will donate to local good causes following the transaction.
Elliott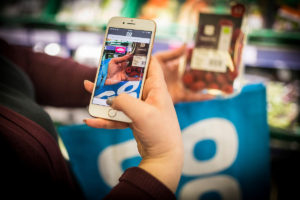 Goldenberg, head, digital payments, Mastercard UK, says: "With the Co-op we are bringing our online and mobile capability – Masterpass – into the physical store, and offering consumers who want a fast and frictionless buying experience, a secure and reliable way to pay."
Matthew Speight, director, retail support, Co-op, adds: "We recognise there are many communities where customers pop in to their local Co-op and enjoy a friendly chat – it is all part of the service. Whereas for others, perhaps with a train to catch or on a school run, every second can count as consumers seek increased convenience."
Source: Finextra