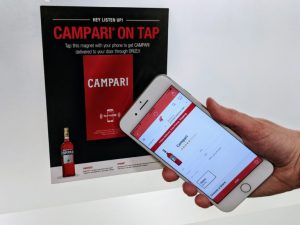 Refrigerator magnets will never be the same. One touch and you can have Wild Turkey Bourbon, SKYY Vodka, or any number of Campari America products delivered automatically to your front door.
The innovative spirits company is piloting a program to simplify the consumer purchase cycle by leveraging near field communication (NFC) technology. It will allow consumers to order and re-order spirits by tapping their smartphone to an NFC-enabled refrigerator magnet. Campari America is the first spirits company to work with Thinfilm to develop a branded magnet NFC solution that immediately takes consumers to a product page on Drizly, the leading beer, wine, and spirits on-demand online marketplace.
"Campari America is always seeking innovative methods that increase the speed and efficiency of getting our products into consumers' hands, and integrating NFC into our marketing materials is another way we're looking to lead the mobile marketing trend," said Melanie Batchelor, Vice President of Marketing, Campari America. "We've streamlined the purchasing experience for consumers, so now ordering and receiving Campari America's brands is almost easier than making a Negroni."
When consumers want to order or re-order their favourite Campari America brand, they simply touch their iPhone or Android smartphone to one of six available branded 'smart' magnets. The NFC chip embedded in the magnet then prompts Drizly to open the specific website page for that brand and gives the consumer the option to add the item to their cart and immediately check out, with the product being delivered by local retailers – all in one cohesive mobile experience.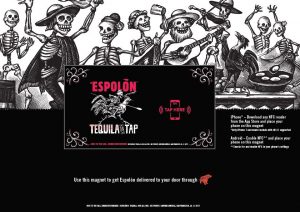 Currently, Campari America offers instant-order NFC magnets for six brands: Campari, SKYY Vodka, Wild Turkey, Aperol, Appleton Estate Jamaican Rum, and Espolòn Tequila. Consumers can find the magnets at their favourite liquor stores in the New York City metro area.
Android smartphone users will automatically read the branded NFC-enabled magnet if they have turned on NFC capabilities in their phone's settings. Consumers using an iPhone can download an NFC reader app from the Apple App Store and use it to read the magnet.
"Thinfilm's NFC mobile marketing solutions empower companies like Campari America to connect directly with consumers and deliver unique digital experiences," said Davor Sutija, CEO of Thinfilm. "We are pleased Campari America chose Thinfilm's NFC solution to help grow their mobile presence and further establish themselves as an innovative and forward-looking company."
Source: Campari America