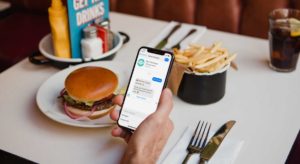 British restaurant chain Byron is the first to launch a Quickpay bot allowing customers to pay for their bill using Facebook Messenger. The payment technology, created by hospitality platform Flyt, gives diners the chance to pay for their meal as soon as they order as well as split the bill.
Diners can choose the hamburger restaurant's location via Messenger and enter their table number. A point of sale system is then used to identify the correct bill and the customer can confirm and pay for their meal.
Byron managing director Steve de Polo said in a statement: "We have previously provided our customers with the ability to pay and leave when they want via our own app. This latest innovation using Facebook Messenger further decreases the friction for giving our guests control in how they choose to pay. We're proud to be the first to roll out this service, and are in the process of making it available across our restaurants."
UK restaurant group Wahaca trialled the bot for one month earlier this year and found that 14.5% of payments were made through the system, at an average conversion rate of 53% and a peak conversion rate of 69%.
Flyt CEO Tom Weaver said: "Most pay-at-table experiences are app-powered so the diner has to download the restaurant's app in order to pay. But this bot makes pay-at-table easily accessible as Facebook Messenger has 1.3 billion monthly active users worldwide. It's the perfect example of how relatively simple tech can be used to improve the customer experience and draw more people to your restaurant. Plus, this tech also makes it possible for smaller quick service restaurants to support pay-at-table without having to build their own apps. They can sign-up as a sub-merchant via [the] automatic onboarding process, which includes thorough know your customer checks, and can start accepting Facebook Messenger payments in a matter of hours."
Restaurants can purchase the Quickpay bot from Flyt or create their own Facebook Messenger payment bot through Flyt's platform.
Source: Verdict Food Service