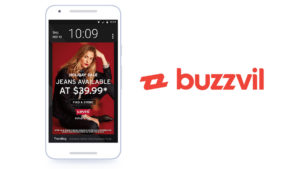 Mobile lockscreen advertising is emerging as a successful element of US marketing campaigns as once-skeptical businesses reap impactful consumer engagement, according to a new white paper by Buzzvil, a lockscreen advertising platform.
The report, 'The State of Lockscreen Advertising: Engagement, Revenue and Apprehension in a New Era of Mobile Advertising,' documents a growth spurt in the nascent use of lockscreen advertising in the U.S. market, coupled with an outlook of the lockscreen's full potential as more ad spending is directed toward mobile campaigns.
"This is a pivotal time for mobile advertising, and what is possible with lockscreen advertising solutions," said Robert Seo, CEO, Buzzvil US. "The record-high spending on mobile advertising we're seeing doesn't always deliver a corresponding increase in engagement, except for lockscreen campaigns' delivery of unprecedented levels of consumer interaction."
The Buzzvil white paper highlights the new revenue streams and user engagement marketers are achieving as competition for clicks meshes with efforts to avoid negative, ad-driven mobile experiences. Several case studies point to lockscreen campaigns delivering 5x higher Click Through Rates (CTR) compared to average banner ad results.
Key Findings:
Buzzvil looked at trends among the 5.4 billion monthly consumer impressions earned among its partners' lockscreen programs to highlight the reversal of industry issues, including avoidance of accidental ad clicks which can skew actual campaign results. Data analysed across Buzzvil's 17 million global users revealed:
The average CTR on lockscreen campaigns is 0.28 percent compared to .04 percent of traditional ads
7 times higher CTR than mobile banner ads
0 percent of lockscreen ads resulted in an accidental click
The most popular lockscreen incentives offer cash, gift cards or donations to charity
"Publishers are discovering that when they ask consumers if they want a lockscreen program, either to receive loyalty incentives or for ads that speak to consumers' brand affinity, consumers are overwhelmingly giving them the chance to be the first impression of every mobile interaction," Seo said.
The paper further explores how lockscreen advertising results in higher engagement with users and improved mobile app download retention that delivers better Average Revenue Per User (ARPU). Examples include:
OK Cashbag, a loyalty program lockscreen app that has 600,000 daily active users contributing to $1.2 million in monthly revenue
An NBC lockscreen campaign that supported a premiere of Chicago Justice that made 11 million impressions for a 91 percent lift in awareness among fans
A British Airways lockscreen campaign that drove 17 percent growth in brand awareness in less than two months
A Dell lockscreen campaign that used algorithmic targeting with data from browsed content and downloaded apps to deliver 5.6 million impressions
'The State of Lockscreen Advertising: Engagement, Revenue and Apprehension in a New Era of Mobile Advertising,' can be downloaded here.
Source: Buzzvil