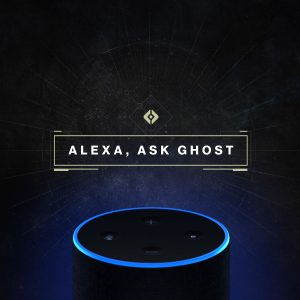 Bungie, Activision, and AKQA announced the launch of the Destiny 2 Ghost Skill for Alexa devices.  Bringing to life the ultimate video game sidekick, this announcement is putting gaming at the centre of the smart home, and the first-ever integrated voice companion in a live game experience.
AKQA designed a unique, innovative way to enhance the Destiny 2 experience, bringing the iconic character out of the game and into the living room.
The Destiny 2 Ghost skill, is available now for Alexa customers to enable, free of charge, through the Alexa app.   The Destiny 2 Ghost skill serves as the premier companion for Destiny 2 players, creating brand new ways to interact with the game—from recommendations for what to play next based on players' real-time current progress, an easy way to interact with friends in your clan and enhance the social experience of Destiny 2, to equipping players' favourite gear for a number of different gameplay activities, or learning more about the world of Destiny 2.
Also announced is the Limited-Edition Destiny 2 Ghost, a WiFi enabled Ghost speaker which works in conjunction with Alexa devices to bring the look and sound of the Ghost from inside the game into the real world in some exciting new ways.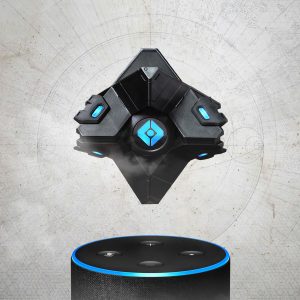 The Limited-Edition Destiny 2 Ghost is available for pre-order now at an SRP of $89.99, and can be purchased separately as a companion to Alexa devices on Amazon.com. The physical Ghost is not needed to use the free Destiny 2 Ghost skill, but the game and an Alexa powered device are required. The Limited-Edition Destiny 2 Ghost will be available on December 19, 2017.
AKQA Managing Director,Simon Jefferson said, "The Destiny 2 Ghost skill is a true innovation that has the ability to change gaming forever. The Destiny 2 Ghost skill creates a more seamless experience for gamers and shows the power of integrating intelligent voice controls into video games in a thoughtful and useful way. Bungie and Activision are extremely supportive partners, who believed in the idea from day one. The final experience is the result of an incredibly close collaboration between Bungie, Activision, and AKQA and is something we're all tremendously proud of."
"Players want to immerse themselves in our games, and with the Destiny 2 Ghost skill, now they can actually talk to their Ghost through Alexa," said Tim Ellis, CMO of Activision.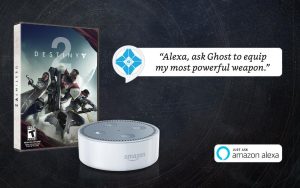 "The Destiny 2 Ghost Skill delivers on the promise of voice as a natural and intuitive medium that redefines the interactions that are possible with players. We're excited to see how players use the skill and apply these learnings to explore new gameplay experiences."
"Destiny 2 players being able to interact with a physical Ghost paired with an Amazon Alexa is just a really fun and unique idea," said Pete Parsons, CEO of Bungie.  He added, "With our partners at Activision, it's been exciting to develop this project into a rich, useful skill worthy of Amazon's Alexa."
Source: AKQA