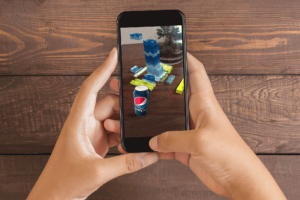 Admix, a monetisation platform for Extended Reality (XR), has announced that over 200 brands have run ad campaigns in VR and AR environments via its platform.
The brands, buying direct on Admix's platform or via ad exchanges, also include Shell, Subway, Ford, Apple, Nike and many more global household names. It has also announced that its supply side platform is serving 300 million monthly ad requests in VR and AR – up from just two million when it launched programmatically in September 2018. 
The company predicts it will reach a billion monthly requests by the end of this year across verticals such as gaming, social, enterprise and entertainment. For VR and AR ads, it is seeing click-through rates of 5.7%; active engagement average rates of 29%; 67% brand recall and a 6.5 second dwell time.
The results support independent research on the effectiveness of XR advertising, with 80% of consumers feeling positively towards experiencing branded VR tactics according to Touchstone Research.
The advertisers on the Admix platform are early adopters of a medium predicted to see explosive growth over the next five years, with the AR market predicted to grow from $7.9 billion in 2018 to $44.7 billion by 2024, with a further 52million VR devices predicted be sold this year alone.
Sam Huber, CEO, Admix said: "It's no surprise that we're already seeing some of the biggest brands in the world leap into Extended Reality to take their place in a media set to revolutionise the way we all consume, interact and behave. Extended Reality, or spatial computing, will be as important to the next decade as mobile to the one before or the internet was to the one before that."
Over 100,000 developers are now currently creating for VR and AR. With the new Oculus Quest, launched May 2019, and the promise of affordable AR headsets being widely available in 2020, the market is at inflection point. Within the next decade, 95% of millennial and Gen Z consumers will access XR content daily.
Admix, which raised $2.4M in 2018 in a round led by Speedinvest, launched in October 2018, offering a platform for brands to buy ads across its unique virtual reality, augmented reality, e-sport and gaming inventory. It sells this inventory to large demand platforms such as Verizon or Pubmatic.
Source: Admix