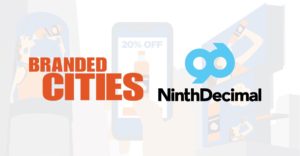 Branded Cities (BC), a premier Out-of-Home (OOH) and iconic media company in North America and NinthDecimal, the leading omni-channel marketing platform, announced a partnership that will empower brands to amplify their OOH campaigns with mobile advertising. Marketers will have the ability to create one-to-one conversations at Branded Cities' OOH locations, continue engagement at influential moments and receive actionable audience insights.
"We are happy to partner with NinthDecimal," said Steven Ellman, Chairman & Chief Executive Officer of BC. "For us, this is the natural progression of Out-of-Home's drive towards extending reach, delivering measurable engagement and receiving more reliable analytics. By combining the ubiquity of smartphones and the influential nature of OOH, we will be able to magnify campaigns, connect brands to their target audience, and demonstrate how advertising on our OOH signage can drive in-store visitation."
The partnership will allow advertisers to elevate the effectiveness of their OOH campaigns through NinthDecimal's digital media extension to deliver actionable touch points to desired audiences across mobile and desktop.
Additionally, NinthDecimal's campaign measurement attribution solution, Location Conversion Index (LCI), gives advertisers a better understanding of who is being reached by their OOH campaigns and the resulting business impact.
By quantifying the incremental lift in visits, brands receive valuable insights into their OOH campaign including its ability to drive customers to stores. This precise attribution can further be used to optimise future marketing spend and maximise effectiveness across metrics that matter most to the brand.
"We are thrilled to be partnering with the leaders in iconic Out-of-Home advertising," said Michael Fordyce, CEO of NinthDecimal. "Marketers can now leverage NinthDecimal's real-time engine of consumer behaviour to help with their OOH planning, mobile media amplification, and attribution. Together we are unlocking the full potential of OOH campaigns to focus on driving visits and sales for true business growth."
NinthDecimal measures more than $500 million in media spend annually. LCI is integrated with more than 250 partners. It has been the marketing measurement platform of choice for leading brands, agencies and publishers since 2013.
Source: NinthDecimal