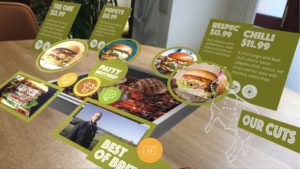 Blippar, an augmented reality (AR) firm which was on the brink of extinction last year, has unveiled a web-based AR solution, enabling anybody to create and distribute AR experiences on the web.
WebAR, which will be integrated integrated into the company's Blippbuilder platform, enables AR rendering within the web browser through image recognition and simultaneous location and mapping (SLAM) technology, leveraging a user's smartphone and desktop camera via the click of a link or the scanning of a QR code – without needing a separate app.
Blippbuilder will begin supporting webAR by the end of July, opening the door for anybody to create AR experiences, even if they don't know how to code.
"I am very proud of the team for continuing to push the boundaries of AR so we can keep offering better tools and products that empower others to seamlessly create the best experiences possible," said Ambarish Mitra, Blippar founder. "Taking AR beyond apps creates an easy distribution channel as the web is still predominant and solves one of the biggest barriers to AR adoption which has been the need to download a separate app to view the content. Once webAR is open to all consumers and developers, the possibilities become endless."
The company's latest product is another sign of its resurgence following some trying times. In December, Blippar entered administration after a dispute between investors prevented it from picking up desperately needed funding.
However, just a month later, the firm would rise from the ashes when Nick Candy's Candy Ventures acquired its intellectual property assets and re-formed the Blippar business, placing Mitra back at the helm alongside other key former team members.
"We are extremely grateful for the overwhelming support since December from our clients, partners, investors and everyone in the ecosystem and we are very thankful to everyone who has contributed to the Blippar journey so far in particular our team members – past and present – without whom we couldn't have built any of this," said Mitra.
Source: Mobile Marketing Magazine