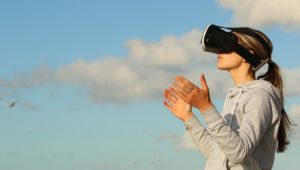 Blend Media, which provides premium 360/VR content for brands including Disney and McCann, has launched Blend Market – a platform which helps clients find and hire skilled professional creators of immersive content and experiences across the VR/AR/MR spectrum.
With the rapid advancement of new technologies and increasingly powerful mobile devices, major platforms including Facebook, Google and Instagram have all introduced new innovative formats to support immersive advertising.
From transforming the shopping experience via Augmented Reality by projecting objects into our homes and AR ads now available in Newsfeed, to incorporating 360/VR environments and experiences to drive deeper engagement, immersive content provides a great opportunity for brands and agencies across numerous industries to engage with customers, get noticed and become a part of the story.
But as Blend Media founder and CEO Damian Collier points out, the industry is fragmented.
"Until now no single solution has existed to enable brands and agencies to find and hire skilled AR/VR/MR professionals and receive the guidance they need," he said. "Whether looking for a specific skillset such as Unity/Unreal, Spark AR or foot-tracking, or for creators with industry expertise such as Retail, Beauty or Lifestyle, Blend Market will help clients connect with and engage the right creators to bring their project to life, from brief to project launch and everything in between."
"Many businesses wanting to create immersive projects are either relying on existing internal skill sets, which may at times be restrictive, or searching on Google for creators with the specific skills they need, which is inevitably time-consuming and risky. Others are delaying moving into the immersive space, which they should not do for risk of falling behind in a rapidly growing industry. Now Blend Marketwill remove the friction points in bringing immersive projects to life," added Damian.
Alex  Solomou, Founder & CEO, LADBible Group, has welcomed the move. He said: "LADbible are investing heavily into the Immersive tech space. We are seeing a huge rise in the commercialisation of AR filters on Snapchat/Instagram and Facebook. VR is becoming increasingly popular with the rise of low priced units such as the Oculus Go and with platforms making 360 more accessible for users. For the past few years, Blend Media has been chipping away at an industry that is soon to become very lucrative. We see the huge opportunity that Blend has, and I think they are amongst a small bunch of people who will navigate successfully through this emerging industry. The potential of their new Blend Market platform, which connects professional immersive creators with brands and agencies, is significant."
Source: Mobile Marketing Magazine