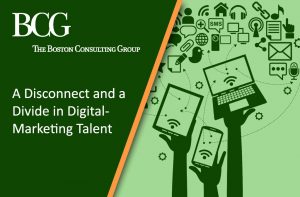 Despite fast-rising digital-marketing budgets, consumer companies continue to lag in the development of essential digital-marketing skills, particularly in high-impact channels and capabilities, such as mobile, video, and testing.
In fact, they have shown no overall improvement in the last 18 months, according to a new survey by The Boston Consulting Group (BCG), which found that advertisers rated themselves at an average score of 57 on the firm's Digital Capabilities Index (DCI), a 100-point scale (with 100 indicating best practice)—exactly the same score as they gave themselves in late 2015. In the current survey, two-thirds of companies scored 60 or lower. The results were consistent across all 41 countries surveyed.
The survey found that advertising agencies put themselves in better—if not great—shape, with an average score of 68. About two-thirds of agency respondents ranked their organization's digital skills at 65 or higher, still far from a best-practice 100. The research results were released  in a new report, A Disconnect and a Divide in Digital-Marketing Talent, which was commissioned by the Google Digital Academy.
The noticeable weaknesses among both advertisers and agencies in the mobile and video channels, among other areas, call out for attention. The differences between advertisers and agencies were considerably wider in these areas than in the overall scores. For example, in mobile advertising, agencies scored 62 while advertisers scored 45. In digital targeting, agencies scored 67, advertisers 53.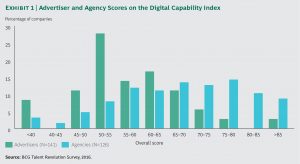 "Given the pace of technological change and the growing influence of digital technologies throughout the marketing function, we expected advertisers to show material improvement in our current survey—the kind that would indicate that they are moving in the right direction, if still getting up to speed," said Dominic Field, a BCG partner and report coauthor. "Instead, we found more inertia than action, as well as low scores in some surprising areas."
Field pointed to the scores that both advertisers and agencies gave themselves on testing (50 and 59, respectively). "Testing, learning, and optimizing an approach in campaign development are among the most powerful capabilities enabled by digital technologies. The ability to see what is working and what is not, and to experiment almost in real time with adjustments and improvements, is essential to using digital channels effectively."
He said that this is especially true in fast-growing channels that are also evolving at a rapid pace, such as mobile web and apps, in which both advertisers and agencies—perhaps not surprisingly—also score poorly (51 and 60, respectively).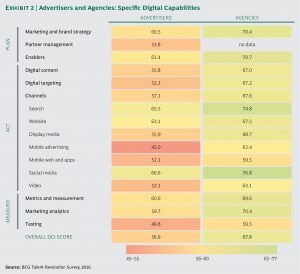 The report points to several reasons why advertisers, in particular, have shown no improvement:
Lack of Understanding. The survey surfaced indications of a lack of understanding at senior levels of marketing management about the strength of companies' digital capabilities, and found that senior managers consistently rated their departments' capabilities higher, and often significantly higher, than junior executives did.
Lack of Vision. Advertisers gave themselves a DCI rating of only 60 on their ability to build digital strategies and plans. They are especially weak in mapping the consumer journey, tailoring content to match the stages of that journey, using ROI metrics to adjust the marketing mix across channels for greater impact, and measuring the effects of their campaigns on actual business outcomes such as sales.
Lack of Organizational Support. Advertisers do not see digital marketing receiving the support it needs from other functional areas of their organizations, such as finance, legal, and IT. And they fault marketing technology platforms for not enabling them to make the most of consumer data.
Lack of Assessment. Measurement is a continuing area of weakness. Companies scored no higher than 60 on their ability to gain access to and derive insight from data, choose the right metrics and targets, and measure campaigns effectively.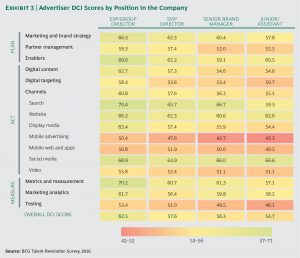 "The importance of having a robust, consistent plan for equipping your marketing team to deal with the rapidly changing landscape cannot be underestimated," said Shuvo Saha, director of the Google Digital Academy. "As the results suggest, there is still a noticeable way for marketers to go in order to make the most of the opportunities presented—even at the agency level. We at the Digital Academy believe this is a clear indicator of the need for a more joined-up approach by the industry to building digital capabilities; hopefully this report will provide the needed wake-up call."
BCG surveyed some 2,200 marketers (including digital specialists, brand managers, customer marketers, and public-relations practitioners) at 141 advertisers in 41 countries on their organizations' digital-marketing capabilities and learning and development efforts in order to understand how they rate their marketing organizations against digital-marketing best practices. Participating companies were from the retail, consumer products, financial services, and technology, media, and telecommunications industries, as well as from public-sector, education, and not-for-profit organizations. The research also included 2,900 employees at 126 advertising agencies in 28 countries.
A copy of the report can be downloaded here.
Source: The Boston Consulting Group