AI-based ad automation platform Bidalgo has unveiled a new product called Creative AI which aims to bring the power of artificial intelligence to helping marketers design high-performance ad creative.
An integrated part of Bidalgo's self-serve ad automative platform, Creative AI uses image- and video-recognition technology to analyse every component of an advertiser's creative, down to each individual pixel, and help advertisers develop ad creative that drives specific campaign goals.
Using proprietary AI-based algorithms, Creative AI attempts to break down the DNA of successful ad creative, analysing dozens of variables including images, colours, promotions, contrast, concepts, copy and more. The solution measures the imapct of all variables on app marketing campaign goals such as return on ad spend, CPI and more, and then provides clear insights into what makes certain creative over- or under-perform, while also recommending creative elements to promote and which ones to replace. To support Creative AI, Bidalgo is also adding more design partners that will connect directly to its platform, such as Glispa Create and CrossInstall.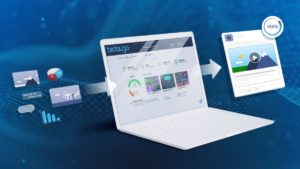 "Winning ad creatives make all the difference in scaling user acquisition campaigns, but marketers are flying blind when it comes to knowing what makes good ad creative work," said Peli Beeri, CEO of Bidalgo. "Artificial intelligence has worked its way into every other part of the digital advertising process, and now advertisers can finally get AI-based insights and recommendations on how to improve ad creative as well. Creative AI eliminates the guesswork involved in developing ad creative so that advertisers know exactly which assets perform well, why they perform well, and how to create more successful assets."
App developer Pixelberry has already deployed Creative AI to support its hit game Choices during the solution's beta test. Using Creative AI to continuously optimise campaign creative and leverage winning elements, Pixelberry was able to drive massive growth for Choices, boosting installs by 42-fold, seeing 185 per cent growth in ROI and a 78 per cent lower cost per action.
"Using Bidalgo AI solutions has allowed us to not only scale to millions of users with incredible return on ad spend, but also understand what type of additional game content to produce and who our target audience is on a deeper level," said Filippo De Rose, head of marketing and ad monetisation for Pixelberry Studios. "Bidalgo was one of our key partners in breaking to the top 10 grossing apps."
Source: Mobile Marketing Magazine