Benefit Cosmetics is launching a social media campaign to support the relaunch and revamp of its range of concealers, Boi-ing.
The campaign, created by socially-led creative agency We Are Social, taps into the theme of concealment by creating a microsite powered by social technology that will help consumers hide social media posts from the past. It recognises that people have been sharing their lives on social media for over a decade, and with the permanence of a digital footprint, posts that we were happy to share ten years ago may cause embarrassment today.
To help fix this, Benefit has created concealmysecret.com, where users can connect with their Twitter, Facebook or Instagram accounts. The site will scan their social profiles using a stored list of compiled keywords, which will help track down posts about old hairstyles, fashion mistakes, former bosses and more. The site will then highlight a list of past updates for the person to review based on their search criteria. Once they have reviewed the search results, they will also be given the option to delete any embarrassing content. They can also add in their own individual keywords, such as an ex-partner's name, to aid in a more specific search.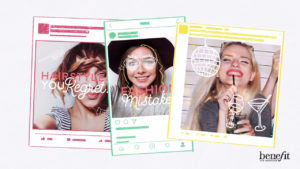 To drive consumers to concealmysecret.com, content linking to the microsite will be distributed across social channels to Benefit's target audiences, showcasing classic examples of unwanted old posts. Visitors to the site will be encouraged to share it with friends and followers on their social channels. Social content will use the hashtag #ConcealMySecret.
Michelle Stoodley, head of digital marketing at Benefit said: "Many of our customers are avid social media users and have been for some time. This campaign recognises the fact that the way people represent themselves and wish to be perceived on social changes over time. With the launch of our new concealers, we thought this was the perfect tie in, while allowing our customers to have a bit of fun looking back over some of their slightly more embarrassing statuses before concealing them."
Alyssa Drysdale, senior account director at We Are Social said: "Most of us can admit to looking back at our past social status updates and cringing. While we might have been happy to share certain personal information or attitudes when we were students, or in previous relationships, this may not be what we want people to be able to find out about us now. So, like the Boi-ing range, this campaign helps Benefit customers conceal what they don't want others to see."
Credits:
Client: Michelle Stoodley, Head of Digital Marketing, Benefit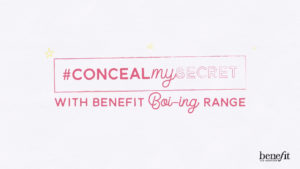 Agency: We Are Social
Senior Account Director: Alyssa Drysdale
Senior Account Manager: Luke Johnson
Senior Account Executive: Harriet Sweetman
Project Managers: Alex Pavone, Sophie Freeman
Creatives: Alistair Campbell, Victoria Kalogerou
Designers: Kristina Matovic, Martin Dennison, Sarah Butler, Maddie L'Anson
Editorial: Sarah Hecks, Laura Muldoon
Technical: Matthew Payne, Tobias Fieldhouse
Source: We Are Social