The BBC, ITV, and Channel 4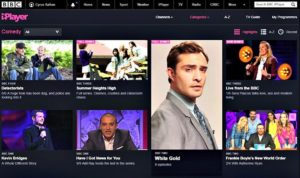 are reportedly in discussions over the possibility of creating a British TV streaming service to do battle with Netflix and Amazon in the UK.
The talks, which are believed to also include NBC Universal, are still in their early stages and no real direction has yet to be confirmed, The Guardian reports.
Several options are on the table in the discussions including using the BBC's iPlayer as the master brand, creating an all-new video on-demand service, and the possibility of expanding BritBox – the ad-free subscription video on-demand service launched in the US at the end of 2016 by the BBC and ITV.
Should the group of broadcasters choose to go down the route of creating a new subscription service, it would bear similarities to a project named 'Kangaroo' that they worked on way back in 2007.
Project Kangaroo was a video on-demand service from the BBC, ITV, and Channel 4 that was eventually blocked by the UK's Competition Commission in 2009 for being too much of a threat to the UK's nascent video on-demand market.
Fast forward just under a decade and it looks like that decision was the wrong one – with the UK's video on-demand market dominated by the US's Netflix and Amazon Prime Video, which are subscribed to in 8.2m and 4.3m UK households respectively.
"With streaming services like NowTV, Amazon and Netflix racking up the subscribers, it won't shock many that BBC, ITV, Channel 4 and potentially NBCU are considering pooling their combined power to launch a new service," said Pauline Robson, Managing Partner at MediaCom. "The plan to join forces is interesting and isn't something we've seen on this scale before. It won't be easy to take a group of competitors and create a great joint service out of it, but if it works, it's a hugely positive move for the media industry and certainly for viewers.
"I'm sure the main streaming services are watching with interest but I wouldn't expect a new service like this to spell an end to their growth – competition drives innovation and quality and the likes of Sky and Netflix aren't short of either.
"For this new streaming partnership to reap any kind of success, though, it needs to create compelling content to rival the likes of Westworld and Stranger Things. Consumers are increasingly watching on-demand – our own research shows young people watch on-demand video most often, more than live TV. And with the impending launch of 5G, easier streaming access on smart TVs and a recent explosion in TV series culture, the timing could not be better. However, with Netflix's focus on unique content and Amazon's next-day delivery service tied in to their Prime Video offering, the British broadcasters will have to offer something very unique to fight alongside these behemoths."
Source: Mobile Marketing Magazine