The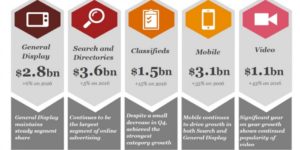 online advertising industry in Australia recorded a seven percent increase in revenue in 2017, with total revenue reaching $7.9 billion.
Search and directories took top position for all categories, recording a five percent growth to reach $3.6 bn, which is 45% of all advertising dollars spent in Australia. Coming in second was general display, which grew six percent to $2.8 bn (36% of ad dollars), with the video component of display growing 43% to reach $1.1bn.
Meanwhile, real estate, recruitment and automotive experienced the strongest growth, while classified advertising recorded a $1.5bn revenue, which is a 15% increase, through Australian companies like REA Group, Carsales.com and Seek.
The last two categories are mobile and video advertising, which showed huge growth. Mobile brought in a revenue of $3.1bn for 2017, a 35% increase, while video posted a $1.1bn in 2017, up from $760mn the year before.
The figures were jointly released by IAB Australia and PwC in an online advertising expenditure report.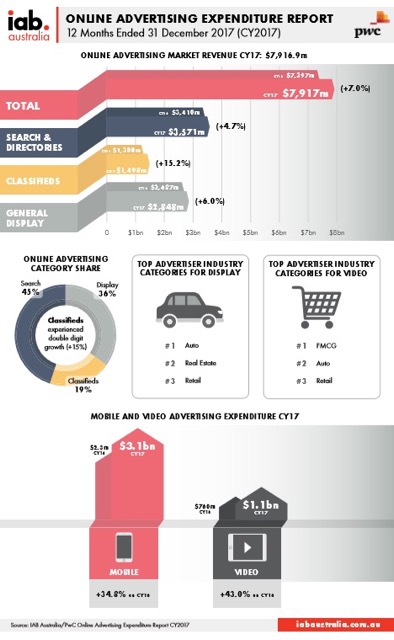 "2017 was a challenging year for all advertising supported media yet the digital ad market saw continued growth from a very strong base," said Gai Le Roy, IAB director of research.
"We are seeing a breadth of different advertising options and formats driving significant revenue including video, native, content and in-feed advertising."
Source: The Drum