ASOS,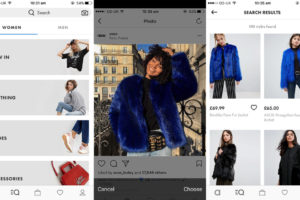 one of the biggest names in fashion e-commerce, is rolling out its Style Match visual search tool globally for iOS and Android. First introduced for its iOS app in the UK last August, the feature lets users take or upload a photo to the app to find visually similar clothing styles that are available to shop. Currently, there are 85,000 products available to search through, and ASOS says it's adding 5,000 new items weekly.
In the age of style bloggers and Instagram influencers, the feature will be useful for users looking to emulate their favorite looks with affordable fast-fashion. Users can tap the camera icon in the search box to upload a screenshot from Instagram, a photo taken from a magazine, or to take a picture right from the app, and get results of shoppable items.
With 70 percent of its UK sales coming from a mobile device, ASOS says it now has a tech team of 900 people and plans to add 200 more. The company is already using machine learning and data science for other features that learn customers' preferences over time and recommend items they might like.
Though
there are other visual search tools like Pinterest Lens and the Kim Kardashian-backed app Screenshop, Style Match seems notable for being a feature used to sell a retailer's own products. Because Pinterest Lens and Screenshop's "Shazam for clothing" features turn up every similar style option available, results that turn up high-end designer clothing have had users reporting that it's "a reminder of how poor you are."
Visual search for shopping feels like the beginning of an industry trend, like when Ikea introduced its app for placing AR furniture, and every other home furnishing company like Lowe's and Target came out with their own versions. With Style Match now available globally, it's only a matter of time before other e-commerce retailers like Zara and H&M follow suit.
Source: The Verge