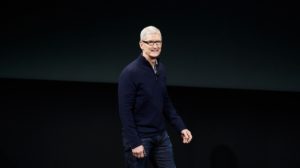 Ahead of Apple's annual Worldwide Developers Conference (WWDC), it has been reported that the tech behemoth may look to expand its digital advertising business.
The iPhone maker is looking to form an ad network where ads would be placed in the apps of companies, according to The Wall Street Journal. Apple would then share any ad revenue with these companies.
So far, Apple is said to have held talks with Snap, Pinterest, and others about them potentially joining the ad network.
The network, which could be being considered in order to offset slowing iPhone sales growth, would likely build off Apple's sales of promotional ads for apps in its App Store. It would do this by enabling developers to promote their apps inside other apps when users searched for specific words within the search functionalities of platforms like Snapchat or Pinterest.
Apple did launch a network for placing ads in mobile apps back in 2010. The iAd network was, however, shut down in 2016 after failing to reach the heights of other Apple ventures.
Source: Mobile Marketing Magazine