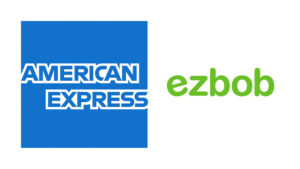 Global payment services company American Express has announced a new partnership with online financing platform, ezbob, to offer selected small-to medium-sized UK business customers fast, secure and competitive access to finance.
Through the partnership eligible American Express business clients will receive a referral to apply for up to £300,000 in finance from ezbob at a competitive, fixed annual interest rate from 3% per year. American Express customers taking out a loan with ezbob will also benefit from a 40,000 Membership Reward points offer.
With its streamlined, fully managed digital lending proposition for financial institutions, fintech ezbob is one of the most advanced business lending platforms available in the UK today. The platform will enable eligible American Express small to mid-sized UK based business customers to access quick, reliable and paper-free credit from ezbob. Using the online loan calculator, companies seeking fast access to finance can apply for a loan in ten minutes – and, if successful – receive funds on the same day.
Commenting on the partnership, Carlos Carriedo, Senior Vice President of Global Commercial Services at American Express, said: "We know agility is crucial for smaller businesses to help retain a competitive advantage but accessing the finance needed to react swiftly to changing customer demands, or seize an opportunity, can be a challenge. Building on the existing support we offer businesses to help them manage payments across the entirety of their supply chains, we've teamed up with ezbob to explore offering our customers low cost access to new capital, which can help keep their business moving. We're committed to helping UK businesses to ensure they can capture growth opportunities – whether that's investing in headcount, optimising seasonality, refurbing premises or simply funding a large order."
American Express and Oxford Economics recently conducted a global study of senior executives of 3,000 SMEs, which revealed that while UK SMEs remain confident, a significant number (24%) struggle to access finance to help grow and support their business. The research highlighted that hidden fees, a lack of flexible repayment options and lengthy application processes are among the greatest challenges for small businesses looking to access finance or capital.
Tomer Guriel, founder and CEO, ezbob said. "We are very excited about the opportunities our partnership with American Express represents for our respective firms. Their decision to partner with us to offer their UK customers a new way to access short-term finance reflects ezbob's advanced functionality and the rapid implementation capabilities of the platform delivered through a fully managed support model. Providing streamlined access to financing for SMEs was a founding principle for developing the ezbob platform."
Source: Net Imperative