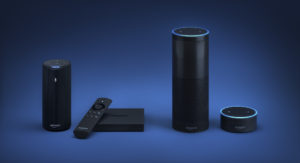 Amazon's Alexa is set for further expansion following a partnership with chip maker Qualcomm to integrate the voice assistant within wireless headphones.
The pairing means that Bluetooth headphone manufacturers will be able to enhance the functionality of their devices by inserting custom microchips which enable pairing with a phone enabled with Alexa.
In this way users will be able to talk to their voice assistant simply by tapping a button, similar in concept to that developed by Apple for its own AirPod wireless headphones.
Amazon is locked in an escalating arms race with Alphabet's own Google Assistant in a race to attain market dominance in a fast-growing market with Qualcomm remaining tight-lipped on whether it will make available a similar offering for Google Assistant.
Speaking to Reuters, Anthony Murray, senior vice president and general manager of voice and music for Qualcomm, said: "This radically reduces their [engineering] cost and time to market. It makes it simple for the industry to adopt this."
Brands are already being encouraged to brace for an impending 'voice boom' as voice-enabled gadgets gain in popularity.
Source: The Drum